Learn more about United Way Board Member, Dennis Jordan!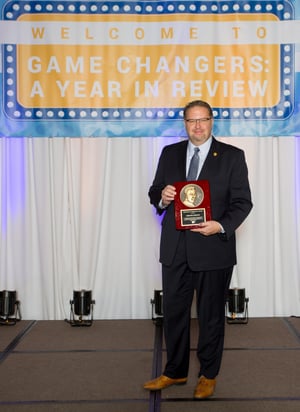 Some of United Way of East Central Iowa's (UWECI) most dedicated volunteers—the Board of Directors—spend a good deal of time behind-the-scenes; working on pushing forward our mission and purpose, providing insight and guidance, and helping us better engage and support our community.
We will be featuring these devoted community members each month. First up is Dennis Jordan, who is also the Chair of this year's Campaign Cabinet and the recipient of the John B. Northcott Award at this year's Game Changers: A Year in Review. This award recognizes outstanding volunteer service to UWECI and was established to honor leading philanthropists in our community.
"I view community involvement like putting money away for retirement; you can't start too early, you should be consistent with your investment, and give in proportion to which you have been given," said Dennis.
Dennis is passionate about education and is known for his commitment to making a difference. He and his wife, Angela, recently celebrated their 50th birthdays with a trip to Hawaii (themed Hawaii 5-0!), and below, you can learn more about how he first got involved with United Way, his favorite part of being on the Cabinet, and more.
Tell us a little bit about yourself.
I was born and raised in Mount Vernon and currently live in Marion. My wife, Angela, and I have four children: Alex (25), Mackenzie (23), Ben (21) & Nick (19).
For about five years now, I have led the business development for Mortenson and have worked on local projects including Hancher Auditorium and Voxman School of Music at the University of Iowa, Russell Science Center & West Science Building at Cornell College, Skogman Companies Headquarters, and the Transamerica C Street Campus renovation & expansion in Cedar Rapids.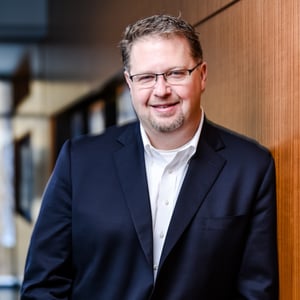 How (and when) did you first get involved with United Way?
I first became involved with United Way during my first job out of college at Amana Refrigeration (now Whirlpool Corporation).
Why did you decide to get more involved with UWECI?
In 2007, I was asked to co-chair the Quarton Society and then joined the Board the following year. I co-chaired the Annual Campaign with Beth Malicki in 2009 and am now on my second 'tour of duty' with the Board of Directors. This year, I was asked to Chair the new Campaign Cabinet and I believe United Way is in the best position to determine where to invest resources for the purpose of breaking the cycle of poverty in our community.
As the Campaign Cabinet Chair, what are your aspirations for the next year?
Our primary goal is to increase donations and engage donors in a more meaningful way.
What's your favorite part about being part of the Cabinet?
My favorite part of serving on the Cabinet is working alongside a diverse group of community leaders, staff, and loaned executives who are willing to give their time and resources to make our community a better place for everyone.
What causes are you most passionate about?
I am passionate about education and believe that anyone can improve their life through knowledge whether that is for purposes of their career, taking care of their family, or serving their community.
What is something unique that people don't typically know about you?
My brothers and I had started a pumpkin business in 1976, and while only one of us is still involved, 'Jordan Pumpkins' is still widely known in the Mount Vernon area. One year, we sold a record of more than 65 tons in pumpkins!