Meet an important group of people who help drive United Way's campaign season.
Workplace Campaign season is starting in Eastern Iowa, which means companies of all sizes are having fun and getting busy supporting United Way of East Central Iowa (UWECI). This demanding time of year brings more work than usual, especially in the wake of COVID-19 and derecho, but one group of people is ready to take on the challenge: United Way Loaned Executives (LEs).
LEs are members of our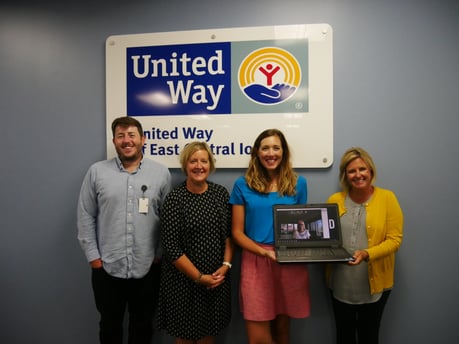 community who work with UWECI for three months every fall. Their job, simply, is to support workplace campaigns at area companies. LE's spend their time meeting with company coordinators, coordinating presentations, and sending campaign materials and information that tells United Way's story.
"This is my second year with United Way," said LE Derek Brimmer, "and I enjoy working with many different businesses and people around the community who are passionate about helping people in need."
Each LE is assigned a portfolio, a set of companies grouped into like industries, of local organizations running a United Way campaign. They help generate ideas, provide guidance, and work closely with our Resource Development team to also strengthen community connections. Kathy Harriott, who has been an LE for three years, values the connections she makes with various people and companies in the community.
"For my entire working career, I worked in various types of customer service and enjoyed the customer interactions immensely. Making a connection with each customer is very fulfilling. I make connections to each company in my portfolio, connections with our partner agencies, and these connections come full circle when they are tied back to United Way," Harriott said.
With social distancing guidelines due to COVID-19 and many companies still working remotely, running workplace campaigns this year will be very different. However, Harriott is looking forward to finding creative ways to run virtual campaigns.
"Many companies are experiencing "zoom fatigue" with all the Zoom meetings their employees are participating in, so it is important for us to bring some light-hearted fun into these meetings while focusing on the importance of contributing to United Way," Harriott added.
"A lot of organizations in our five county region have already come up with innovative and creative ways to run their campaigns," said first year LE Sarah Watson, "so it will be fun to take part of these new virtual events!"
The money raised during company campaigns helps us continue to connect our neighbors in need to resources nonprofits in our community can give. Will all of the challenges 2020 has thrown our way, supporting United Way is more important than ever. Click the button below to see how our work in action through Abbie's story.