Learn how UWECI is connecting those in need to life-changing resources.
Whether it's a flood, tornado or a derecho, you quickly see a community's initial response. However, recovering from a disaster goes beyond cleaning up tree debris on neighborhood streets and repairing roofs on homes and businesses. Many people in Eastern Iowa are still facing various challenges, from finding a new place to live or searching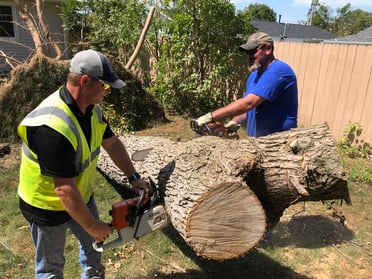 for financial assistance to get essential work done. Long-term recovery is extremely important, and that's how dollars from United Way of East Central Iowa (UWECI)'s Disaster Recovery Fund are being used. The Disaster Recovery Fund was created to address and support emerging needs of the most vulnerable individuals in our community as a result of August's derecho.
The scope of how far UWECI's funding has reached is expansive. Some organizations, such as King of Kings Lutheran Church Disaster Response, were able to obtain personal protective equipment (PPE) to effectively and safely remove trees and debris, even during the middle of a pandemic. Other organizations, such as Waypoint, the Catherine McAuley Center, and Affordable House Network Inc. (AHNI) have been working diligently to find housing for individuals who are not eligible for other housing assistance programs or who need assistance with security deposits. Funding from the Disaster Recovery Fund helps expand and increase these much-needed services so that every individual or family receives the help they need to recover from August's storm.
Along with funding area nonprofits, UWECI has used dollars from the Disaster Recovery Fund to initiate and support needed community collaborations and strengthen other solutions. Alongside the Alliant Energy Foundation, HACAP, and the Local Labor Management Cooperation Committee (LLMCC), UWECI helped launch Project ReConnect. This project has since expanded to support the PATCH Program, which will assist with housing repairs in addition to electrical repairs.
Applications for nonprofits to receive funding from the Disaster Recovery Fund are still being accepted. Applicants must demonstrate strong experience in providing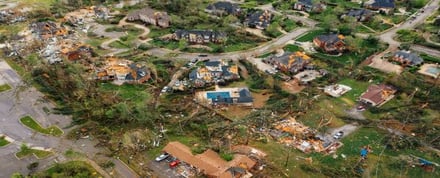 support for immediate basic needs and economic stability. Key areas could include needs such as childcare, access to food, medical needs, emergency housing, emergency financial assistance, storm damage repair, and other needs. Any 501c3 organization in our five-county service area is eligible to apply. Application guidelines and forms can be found here.
As the cleanup and long-term recovery process continues, UWECI will continue to connect people to assistance and services that need them the most.