Our community changed in an hour. Here's how United Way is connecting the dots to help our community recover.
For many in Eastern Iowa, August 10th started out as any other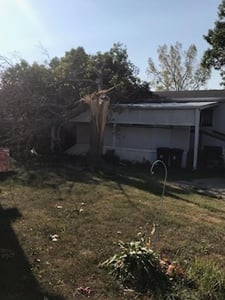 Monday, and even though the COVID-19 pandemic was still ongoing, since March, many had found a new normal.
People got out of bed, made their coffee, and headed to work in their offices or at home. Children played outside in the morning sunshine while others watched cartoons on TV. Area teachers prepared lesson plans for classes scheduled to start in two weeks. There was a forecast for rain and severe weather over the lunch hour, but no one thought anything of it.
Everything changed at 12:30 p.m.
What followed was over an hour of whistling straight-line winds,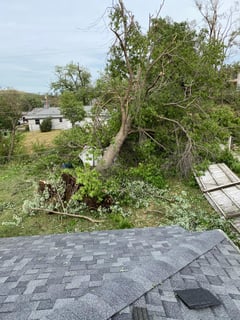 booming thunder, and torrential downpours that completely uprooted cities and small towns across the state. Crashing noises of falling trees cut power to thousands of homes and businesses. It wasn't until people came outside to find their neighborhoods and streets unrecognizable.
Then, reality set in. One woman discovered the tree in her front yard had smashed through the front of her house, leaving a gaping hole for water to fall into. Across town, several apartment complexes were leveled. Streets, highways, and interstates were covered in downed power lines and tree debris, creating a maze for those trying to get home. And for some, their homes and apartments were so badly damaged, that they were considered uninhabitable.
With no power, no phone service and no water, fears set in and the questions began. What just happened? Where can I get food? How can I make sure my family is okay? Where can I go for shelter?
Within 24 hours of the storm hitting Eastern Iowa, United Way was there.
United Way of East Central Iowa (UWECI) was built to be a leader in times of disaster. Over the course of the next 48 hours, UWECI mobilized to recruit and organize volunteers and cleanup efforts, bringing in thousands of local and national volunteer teams to help.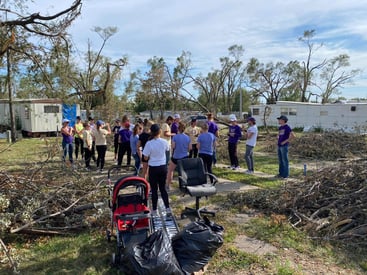 A disaster fund was established to raise money for those who need it most, and 100% of the dollars raised will go back into the community through programs local nonprofits use to support individuals in our community. Through the power of connecting our community, we helped create Project ReConnect, a resource map, and so many additional community collaborations to help people find food, shelter, garbage/debris contractors, and other necessary services.
Eastern Iowa looks very different today than it did 18 days ago. Despite this, the strength and hope in our community continues to rise. With the support of numerous volunteers and donors, UWECI is ready and willing to lead the long-term recovery process.