Read more about a community collaboration that has expanded for long-term recovery repairs.
CEDAR RAPIDS, Iowa – October 28, 2020 – The Alliant Energy Foundation, in partnership with United Way of East Central Iowa (UWECI), is expanding the original scope of its Project ReConnect program. In coordination with other area non-profits,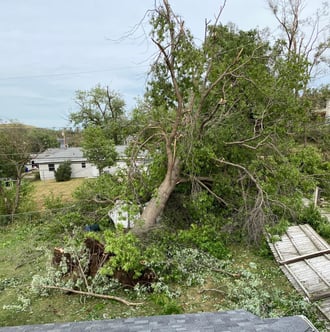 the program continues to assist Alliant Energy's most vulnerable customers by now providing critical housing repair assistance.
In addition to providing funds for electrical repairs, Project ReConnect will now also support the PATCH Program (Providing Assistance to Community Homeowners.) This is an immediate relief effort to help homeowners impacted by the derecho storm in Linn County, as part of a larger collaboration that also includes the Greater Cedar Rapids Community Foundation and local non-profit Matthew 25.
Specifically, Project ReConnect's funds will provide Matthew 25 with a Volunteer Coordinator and a Housing Rehab Coordinator, who will identify and coordinate contracted and volunteer efforts to provide housing rehabilitation for derecho repairs. Low-income families will benefit from these repairs.
"We know we're up against the clock with winter coming soon," said Joel Schmidt, Vice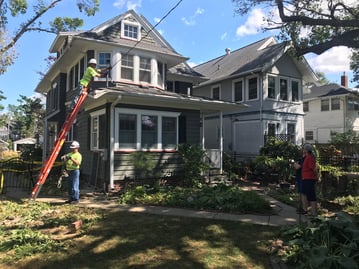 President of Business Development at Alliant Energy. "The last thing we want is to have families no longer be able to live in their homes once the temperatures drop because the repair work isn't completed. We will continue to do all we can to help customers and communities recover from the derecho."
"Recovery from the derecho is bigger than any one entity can take on," said Kristin Roberts, President & CEO of UWECI. "Our community is fortunate to have different organizations committed to solving these complex problems with collaborative solutions."
The community collaboration between the Alliant Energy Foundation and UWECI was originally formed in the wake of mid-August's derecho to help Alliant Energy's most vulnerable customers reconnect personally-owned exterior electrical systems.
To receive assistance through Project ReConnect's housing repair assistance, customers can contact Waypoint at (319) 366-7999. To receive assistance through Project ReConnect's electrical repair assistance, customers are encouraged to contact their local Community Action agency.
UPDATE: August 6, 2021: This week, the City of Cedar Rapids shared plans to allocate $1 million to the PATCH program, a collaboration which helps homeowners repair derecho-damaged homes.

We're honored to be part of this collaboration and excited for these funds, as it will help more individuals get back into their homes after a devastating storm. You can read more about this story here.
---
About Alliant Energy Foundation
The Alliant Energy Foundation is a philanthropic organization created by Alliant Energy Corporation (NASDAQ: LNT) and is operated as a separate entity led by its own board of directors. The Foundation is committed to making a positive difference in the communities where Alliant Energy employees, retirees and customers live and work. The Foundation, which is funded solely by Alliant Energy shareowners, seeks to further the corporation's goal of being a good corporate citizen and contributing member of society. Since 1998, the Foundation has contributed $55 million to innovative projects and local nonprofits. For more information, visit alliantenergy.com/foundation.
About United Way of East Central Iowa
United Way of East Central Iowa (UWECI) is a nonprofit organization and the second largest United Way in Iowa. Together, UWECI and its partners serve Benton, Cedar, Iowa, Jones, and Linn Counties to help meet our community's most critical needs in education, financial stability, and health. For more information, visit uweci.org.