Learn more about Women United's empowering & educational annual event.
United Way of East Central Iowa's (UWECI) Women United Leadership Society held their annual luncheon on Wednesday, May 22 at the Cedar Rapids Country Club. The program is an opportunity for our community to learn more about Women United's mission, successes of the past year, and its community partners.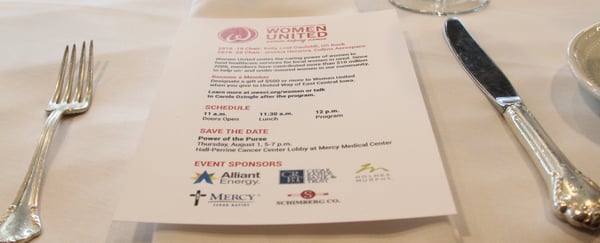 The program was kicked off with a welcome by UWECI President & CEO Tim Stiles. Tim passed the mic to Women United's 2018-2019 Chair, Kelly Lind-Daufeldt, who recapped another year of making a difference for local women and their families and then had the opportunity to interview a representative from each of Women United's three health partners: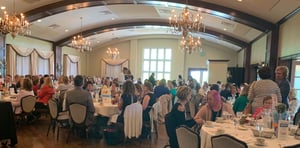 Each rep gave an overview of their agency and answered questions including how Women United funding helps their programs, what challenges they face, and where they see opportunity for growth. Many of the reps noted they are now able to fund patient care navigators and social workers who support all aspects of client success through coordinated care and planning.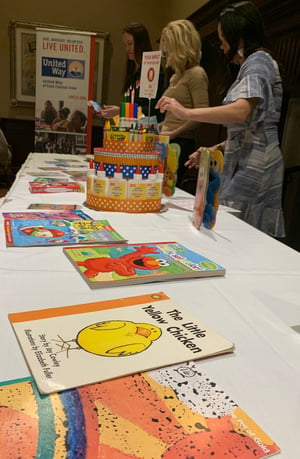 Next, a guest speaker from ASAC's Heart of Iowa—Michaela—shared her story about being a woman in recovery. She expressed her gratitude to Heart of Iowa for helping her break her addictions, become more confident, and grow as a loving and dedicated mother. Michaela received a standing ovation after sharing her story, exclaiming she has been sober for more than 450 days.
Kelly then introduced the incoming Women United Chair, Jessica Horaney, who thanked everyone again for coming and paid tribute to the Women United steering committee and UWECI staff for planning the luncheon.
To wrap up the event, Women United gave away two tickets to their upcoming event, Power of the Purse, on Thursday, August 1. Power of the Purse is a silent purse auction and raffle that supports Women United's mission of providing funding for healthcare services for women in need.
Tickets to the event are now available—you can get yours here! Learn more about the event and donating a new purse for the auction today.