Learn about two of our Community Building interns, Allison and Helaina!
Each year the Community Building team supports universities and colleges in our area by hosting interns. This year, United Way of East Central Iowa (UWECI) is has two interns for both the fall and spring semesters. We sat down with them to learn more about where they're from, what they like to do in their free time, and what their dream job looks like. Take some time to learn more about Allison Hein, who recently got married, and Helaina Graves, a closet fashion designer, both masters students at the University of Iowa's School of Social Work.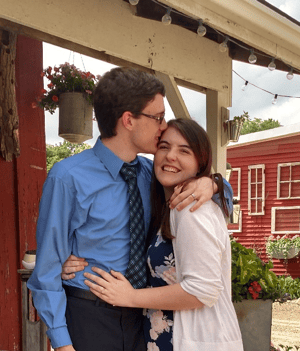 Tell us about where you're from, where you grew up, etc.
Allison: I grew up in Cedar Rapids so I'm very happy to be back and working in the community I grew up in. I graduated from Prairie in 2015, then Clarke University with a BA in history in 2018. Now I look forward to graduating from the University of Iowa with my MSW, Masters in Social Work in May of 2020.
Helaina: I'm from West Branch, IA, so I have always lived in a small rural area. However, it wasn't quiet there. I had 16 siblings (6 step siblings, 7 half siblings, and 3 adopted siblings)!
What's your all-time favorite movie or what show(s) are you currently watching?
Allison: My all-time favorite movie is The Illusionist. It is a thriller/mystery movie that I find myself watching again and again (even though I know the plot, character development, and plot twists by heart). The plotline and character development amazes, but also reminds me to be more aware of how what I'm seeing and hearing impacts my perception of a situation. Things are not always what you perceive them to be!
Helaina: I am currently watching the Vampire Diaries/Originals series, as well as anything that is fantasy or science fiction.
Why did you want to work for United Way?
Allison: I saw and heard United Way's name everywhere in the research I was doing for school. Then, I did internships at HACAP's First Five and Waypoint where I learned more about United Way's mission. Being able to learn more about work at a systems-level was important to me as I wanted to work at a more community service organization.
Helaina: During my undergrad courses at Mt. Mercy University, I was encouraged to learn more generalist information. However, when I did my internship at Foundation 2, I kept hearing about the work United Way of East Central Iowa supported. After that I realized I like to do work that is on a larger scale, that can impact the whole community.
Who inspires you and why?
Allison: While at Clarke College, I had the opportunity to work with the Sisters of Charity, BVM in Dubuque, who founded the university. I worked in their archives and got the chance to meet and learn so much about work the sisters had been doing across the country.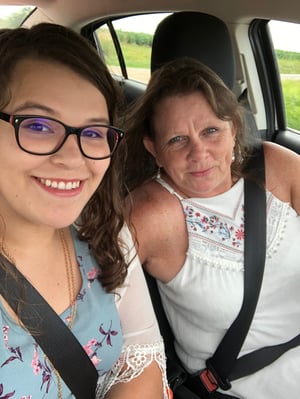 Recently, a sister that I worked closely with passed away. Her name was Sister Anita, and she was a lady of many passions, including preserving the work of her fellow sisters, singing, and spreading joy into the world around her. When I'm asked who inspires me, I think of a few key people, and Sister Anita is always one of them. Her joy and compassion were endless, which always inspires me to be more like Sister Anita at my workplace, with my friends and family, and in service to my community.
Helaina: My mom, because she is a nurse, a mom and a grandma, and she also was the person who believes in me the most.
Be looking for more on these amazing women in the coming months.