Learn more about Amy Brainard, our new VP of Resource Development.
Last month, Amy Brainard became the newest addition to our team. Get to know Amy, the new Vice President - Resource Development, through her responses to our questions below!
Tell us about where you're from, where you grew up, etc.
I grew up in Jefferson City, Missouri and majored in soc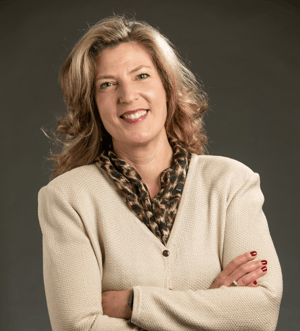 ial work at Missouri State University in Springfield. My husband grew up in Marion and went to Coe College. He started his career in Springfield, which is where we met! We have been married for 19 years. I started my career in hospice and then worked at a psychiatric hospital with teenagers. I then shifted careers and went into marketing and public speaking with The Art Institutes. My husband wanted to move back to Iowa to help his aging parents, so in 2008 we moved to North Liberty and I joined the University of Iowa Center for Advancement and worked there for 10 years. Just prior to joining United Way, I worked for three years as the foundation director for The Lifespace Foundation.
What would you say is your motto or a quote you like to live by?
"Life unscripted." I would not consider this a motto or a quote, but it is how I view life in general. It's embracing that life is going to throw us curveballs, and it's also embracing challenges, changes and successes and always moving forward.
Why did you want to work for United Way?
I want to serve friends and neighbors right here in my own community who are in need of support. I love being able to connect those in need with the necessary resources to meet those needs!
What is something on your bucket list that you haven't had a chance to complete yet?
Take a cruise! I have taken several vacations and been to some amazing places but have yet to take a cruise. I'm not sure where I want to go just yet but let me know if you have any suggestions!
What do you know now that you wish you had known earlier in your career?
I have learned through the years as a fundraiser that philanthropy should be an experience, not a transaction. Having this approach helps me appreciate that with every supporter and every donation: it is not about the amount of money that is raised, but rather about the impact that money has on our community and those that we serve.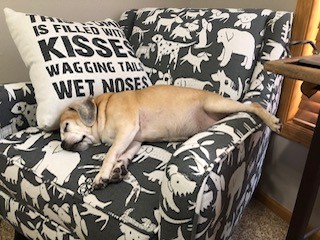 Do you have any pets? Tell us about them!
I have one dog named Peyton; she is a puggle and I love her to pieces! She is almost 12 years old and named after Peyton Manning when he played for the Colts. She is spoiled rotten and is the boss of our home. I can't think of any better way to spend my evenings than snuggling with her while watching a movie or reading a book.