Learn more about Myah, our new Multimedia Specialist!
Myah McCoy rounds out our latest group of new employees on the United Way of East Central Iowa (UWECI) team! Get to know Myah, the Multimedia Specialist, through her responses below.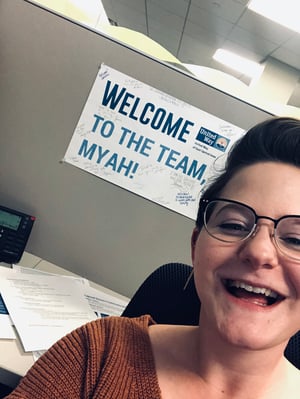 Tell us where you're from, where you grew up, etc.
I am a local Cedar Rapidian, born and raised! I hopped around schools growing up and after high school, I ended up attending Iowa State University to study graphic design. The Hy-Vee on Edgewood Road is the BEST Hy-Vee in CR and no one can change my mind.
What are your hobbies? What do you like to do for fun?
I really enjoy using my creative side in my free time: drawing, sketching, anything to keep my hands moving and my skills sharp! I am also a big lover of my PS4. Nothing beats a quiet weekend in while playing my favorite game; all while being wrapped up in four blankets. But when I want to be social, I love to explore the local restaurants, bars, and breweries in town. I really enjoy visiting Cedar Ridge during the summer and fall; it's so picturesque.
What would you say is your motto or a quote you like to live by?
"Do more good than harm" is something I try to do every day. No one is perfect, but practicing empathy and understanding is something I strive for. You never know what others are going through in their own personal lives, so always walk, talk, and think with kindness in mind.
Why did you want to work for United Way?
As a designer, sometimes you are asked to create things for people who want to influence others in a way that is harmful. United Way wants to help people. I know that no matter what I create, it will always be for a good cause, to do good, or help others see/recognize the opportunities for themselves to add something good to the community or help someone in need. If I can make one positive impact, it is all worth it.
What is something on your bucket list that you haven't had a chance to complete yet?
Cage diving with Great Whites.
Where is your favorite place in the world?
When my sister and I were in Ireland, we had the opportunity to visit the most amazing natural rock formation. It is called Giant's Causeway and it is right on the Northern/Northwestern coast of Ireland. It is truly an amazing thing to behold and being there right around sunset was breathtaking. The sound of the waves crashing into the weird hexagonal rock towers, the sun on the water, wind whistling in my ear… I think about that place often.
Build the perfect sandwich… go!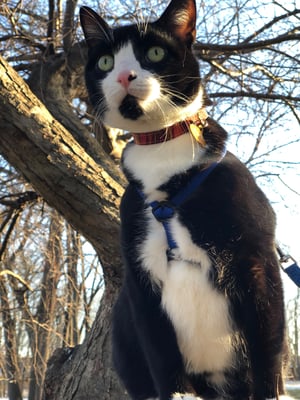 Sourdough bread, mayonnaise with deli-style ground mustard, dill pickles, lots of tomato and leafy lettuce, a healthy portion of roast beef, and a delicious slab of swiss cheese. Can't go wrong with that!
Do you have any pets? Tell us about them!
I have an eight-year-old Tuxedo cat named Roku. He is NOT named after the TV streaming service, but instead after a TV show character that I adored. Roku is a very food-motivated pet and because of this, I have trained him to know and perform a plethora of tricks including but not limited to: sit, beg, shake, lay down, come, high-five, and he knows how to successfully walk on a leash! He is practically a dog, but when life gives you a very food-motivated pet, you've got to make the most out of it!