Learn about Chris, who volunteers with four different agencies in our area, and what she enjoys about her work!
Volunteers are greatly needed and gratefully received throughout the community, and many volunteers choose to share their talents with several nonprofits. We sat down with Chris Heth—an avid volunteer for multiple organizations—and talked about how she originally got involved with volunteering, why she enjoys it, and any advice she has for new volunteers.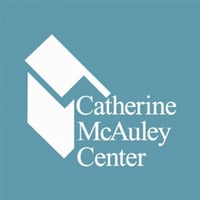 Chris volunteers at several organizations in the community who are nonprofit partners with United Way of East Central Iowa (UWECI). Her most recent involvement is with the Catherine McAuley Center, an organization that offers opportunities through services that promote stability and community connections. She started out filling pantry shelves one day per week. Today, she does that, plus coordinates pantry volunteers and food pickup from HACAP.
"The organization keeps wanting me to stay involved, so they ask for my help with more activities," said Chris. "I think part of the reason why [they ask] is because they value you and feel you can do more with their organization."

Additionally, Chris volunteers for Aging Services with her sister. As a friendly visitor, her role is to visit individuals at least once a month and provide companionship. On top of that, she helps sort shelves at the Habitat for Humanity ReStore—an activity that may seem routine to some, but one that Chris finds enjoyable.
Along with volunteering, Chris holds a couple part-time jobs and is a member of the local dragon boat club. All these activities keep Chris busy, but she enjoys giving back to the community because it makes her feel valued.
"Volunteering allows you to not focus on yourself," said Chris. "Being a volunteer means you recognize that there are needs in the world, and when you help other people you help yourself, too."
Chris encourages first-time volunteers to think about their skills when looking for a volunteer position. "Think about what you're good at, and what needs might be out there that match them."
She also recommends everyone to use Volunteer Now, a UWECI volunteer opportunities database, if they need help finding opportunities.
"It's one of the best ways to get connected with the community," said Chris. "You can do something only once if you want, or you can try out something they have listed and see how it goes."