Learn more about the pandemic's impact in our area and how UWECI works to support families in need.
As we pass the one-year anniversary of the first confirmed COVID-19 case in our five-county region, reflecting on the impact it has had on our work is astounding. Thousands of individuals have been infected, hospitalized, or passed away. Tens of thousands of children have transitioned to learning remotely or experienced social-emotional hardships, and tens of thousands of adults have lost jobs, had hours reduced, or filed for unemployment. But, there is hope.
With three effective and safe vaccines available along with mask wearing and social distancing, the number of positive cases has consistently decreased since the beginning of February, and hospitalizations have consistently decreased since the beginning of January. How has this deadly disease impacted the three pillars that United Way of East Central Iowa (UWECI) strives to uphold in the community?
HEALTH
Health is the most clearly identifiable aspect of life altered by the pandemic. According to a nationwide Ipsos poll from late January, 80% of respondents know someone that has tested positive for COVID-19 and 35% of respondents know someone that has died from the virus.[i] As of March 10, 2020, 29,603 positive tests have come from residents in our region (see Fig. 1).[ii]

United Way of East Central Iowa's COVID-19 CARE Fund (CARE Fund) raised and distributed $52,000 across the region to help local programs overcome health-specific barriers. These funds helped programs offset the cost of life-saving personal protective equipment so they can continue operation, as well as provide additional food assistance to populations vulnerable to the virus.
EDUCATION
The largest impact COVID-19 has on children across our region is through education. Almost every school in our service area has closed for some time, especially during the pandemic's earliest stages. School closures undoubtedly helped reduce the spread of COVID-19 among students and teachers. However, this hurt students academically and socially, especially for children living in low-income households. As noted in a Data Dialogue from last summer, a reading proficiency gap already exists between students that receive free or reduced price lunch (FRL) and all students (see Fig. 2).[i] Along with other factors such as internet connectivity, family size, and access to nutritious meals, students from low-income households have been disproportionately burdened by school closures. These students were already facing barriers prior to the pandemic, and new challenges only amplify those barriers.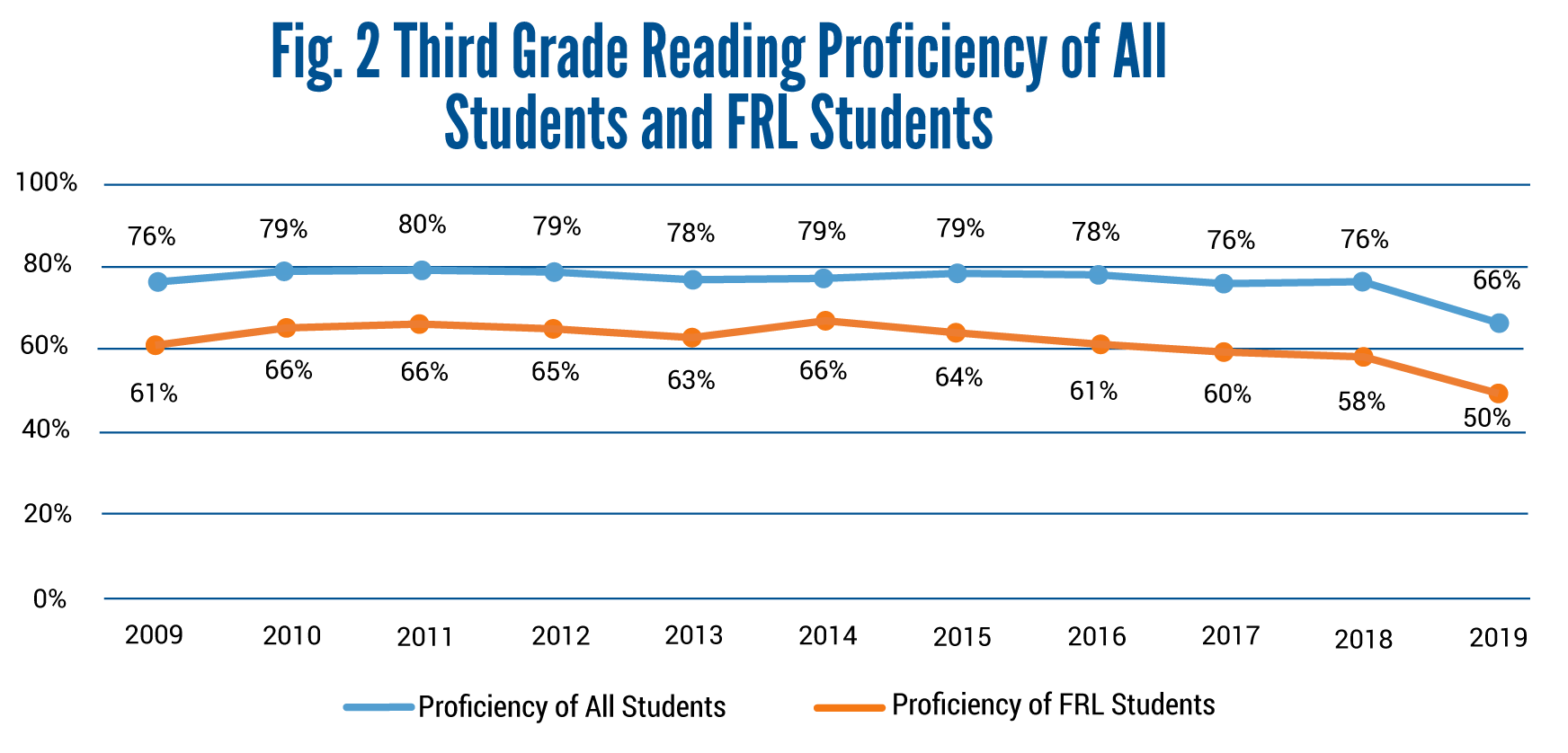 In the face of school closures and a lack of access to reading materials, UWECI collaborated with multiple organizations for an incredibly successful book drive last summer. Over 4,000 books were collected, organized, and distributed to school districts across our service area. Additionally, over $30,000 have been raised and distributed by the CARE Fund for education-related needs. Much of these contributions have gone towards school supplies that children can use at home, as well as offsetting childcare and youth program costs.
FINANCIAL STABILITY
Levels of initial unemployment claims experienced last spring and over the course of the past year have never been seen before. During the first week of April 2019, 177 individuals filed for unemployment across our service area. One year later, 8,721 individuals filed for unemployment, an increase of 4,827%. It was not a gradual increase over the course of one year, either. Just one month prior to that peak, 206 individuals filed for unemployment. That is an increase of 4,133% in just one month. For perspective, during the first week of April 2019, 1,781 individuals filed for unemployment (see Fig. 3) across the state.[i] Our region had almost five times as many individuals file for unemployment in one week as the entire state did in one year.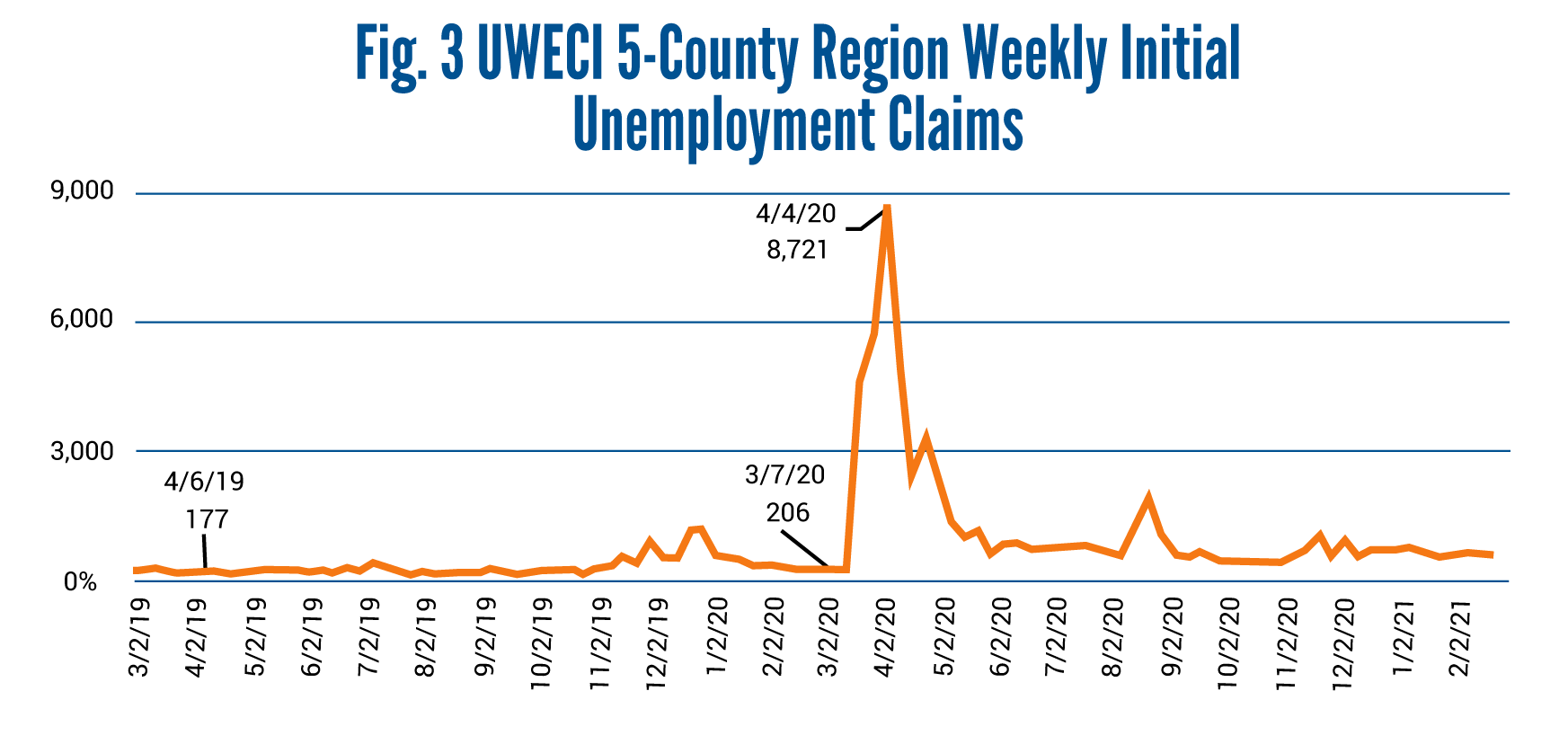 Financial struggles exist through many different avenues. Losing a job or having hours or pay reduced makes paying for basic needs, such as housing, utilities, food, and education a constant struggle. Many individuals no longer have disposable income to spend on goods and services. Without local support, small businesses struggle as well. The CARE Fund raised and distributed over $72,000 towards programs that provide access to food, emergency shelter, rent assistance, and childcare supplies.
COVID-19 could have been much worse to this point without the overwhelming generosity of volunteers, donors, and partner agency programs. Our communities are strong, and our collaborations build greater capacity to achieve monumental outcomes. Resiliency has lived large throughout our service area over the past year. The virus has forced us apart, physically, but has brought our sense of community closer together as we help each other through this difficult time.
[1] https://www.ipsos.com/en-us/news-polls/axios-ipsos-coronavirus-index
[1] https://coronavirus.iowa.gov/pages/case-counts
[1] Iowa Department of Education.
[1] Iowa Workforce Development.