Learn more about the importance of quality education for children in East Central Iowa.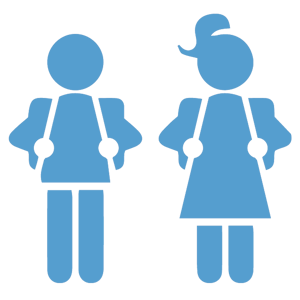 Assessing the needs of children in our community, and more specifically children in vulnerable situations, is essential to ending the cycle of poverty. Research indicates the brain develops more in the first 2,000 days of life than any other time in a life. Investing in strategies that support young children leads to improved education, employment, and health as they grow older. [i]
That's why United Way of East Central Iowa (UWECI) and Linn County Early Childhood Iowa (ECI) collaborated over 18 months to complete an Early Childhood Needs Assessment and Community Plan. The purpose of this report is to get a more comprehensive understanding of what is happening to young children and their families in our community. This report is broken into three sections based on each ECI core service: Child & Maternal Health, Early Care & Education, Family Support & Stability. We previously wrote about child and maternal health last month. In this blog, we will focus on early care and education.
Child Care
86% of Linn County childcare spaces are in centers or preschools licensed by the Iowa Department of Human Services. [i]
Preschool (Public Funds):
70% of kindergarten students in public school districts throughout Linn County attended preschool within the prior 12 months.

[ii]
Affordability:
What is going well for young children in our community?
Growing number of children participating in preschool
Ease of earning an Education Degree or Early Childhood AA in Cedar Rapids
Cross-sector collaborations promote kindergarten readiness
Increasing enrollment in Iowa Quality Rating System (QRS)
Access to specialized supports to serve children with behavior or health concerns
Developing refugee childcare businesses
What are challenges young children are facing today?
Reduction in available childcare, especially for families working 2nd/3rd shift or weekends
Language barriers
High costs; quality childcare costs more than college tuition
Decline in Child Care Assistance subsidy participation
Limited access to professional development for childcare providers
What strategies are being put in place to address the challenges and build on the strengths found in this report?
Increase community awareness of childcare's impact on workforce development and family success
Recruit new childcare entrepreneurs and support existing quality childcare professionals
Increase the number of childcare providers enrolled in continuous quality improvement initiatives
Identify additional sources of revenue to support local early care and education initiatives
Promote kindergarten readiness efforts to enhance school achievement
Assist childcare providers to serve more children from at-risk families
If you would like to learn more about the strengths our community possesses, the challenges it faces, and the strategies to create change, please view the Early Childhood Needs Assessment executive summary.
---
[i] Iowa Child Care Resource & Referral. Linn County Data Sheet. 07.2019
[ii] Iowa Department of Education, Bureau of Information and Analysis Services Student Reporting in Iowa. 2019
[iii] United Ways of Iowa. ALICE: A Study of Financial Hardship in Iowa. 2018
[iv] Gould & Cooke. High quality child care is out of reach for working families. Economic Policy Institute. 10.06.2015
[i] Georgia Early Education Alliance for Ready Students. 2019. https://geears.org/initiatives/first-2000-days/