Learn more about the award winners, volunteer hours raised, and this year's outstanding art.
Time for Art: A Celebration of Volunteers was a little different this year. The virtual event held from Monday, April 12- Friday, April 16 was hosted by United Way's Young Leaders Society (YLS). It pivoted to a virtual silent art auction, and limited in-person awards ceremony, livestreamed for those watching from home to continue to be safe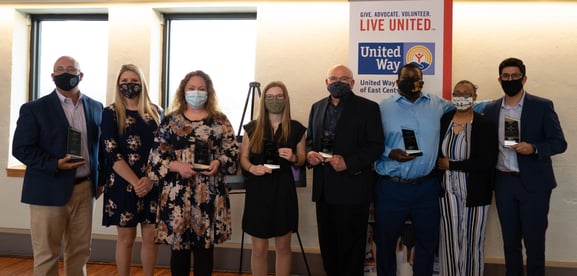 for participants and volunteers.
Time for Art's silent art auction kicked off on Monday. This unique portion of the event gave attendees the opportunity to bid volunteer hours instead of dollars on local art. The auction included stunning shots of Cedar Rapids, beautiful paintings of nature and animals, home décor pieces made of wood, and handcrafted jewelry. Seven new artists donated their work to Time for Art this year.
On Friday, the livestreamed program took place at The Olympic South Side Theatre, with the Volunteer Awards finalists being recognized and honored as some of our community's most dedicated volunteers. Congratulations to the following winners:
Civic Business Volunteer Award: Cedar Rapids Bank & Trust
Community Family Volunteer Award: Bridgette and Jovountae Robinson
Emerging Volunteer Award: Emma Speer
Hand Raisers Volunteer Award: Dean Bennett
Lifetime of Service Volunteer Award: Arlan Braun
Social Impact Volunteer Award: Juan Ignacio Llanos
We also recognized two artists, not only for their incredible talent but also their generosity.
Artists' Choice Award: Christina Farrell
New Artist Award: Jamie and Kyle Morrissey
At the end of the program, the silent auction results were announced. This year's 36 pieces brought in over 1,350 pledged volunteer hours, which is worth $36,720!
Artist Steve Shriver took home the final award of the night, the Community Impact Award, as the winner of his Mays Island Aerial photograph pledged the high of 300 volunteer hours.
Thank you to all the attendees, artists, and nonprofits who came together to make this evening such a special one for both in-person and virtual attendees!