Learn more about minority-owned businesses in East Central Iowa and their impact in our community.
Juneteenth celebrates the emancipation of slavery throughout the United States and is commemorated on the anniversary of the General Order No. 3 announcement which proclaimed freedom for slaves in Texas on June 19th, 1865.
Damages from slavery still impact Black and African American individuals across the United States, including the UWECI five-county region. One of the most significant is the difficulty in building generational wealth. In many instances, this has been impossible without owning land, a home, or a business coupled with the inability to obtain bank loans. While data is unavailable specifically for Black or African American owned businesses in Cedar Rapids, we can still see the great disparity between white and minority owned businesses relative to the population in the charts below.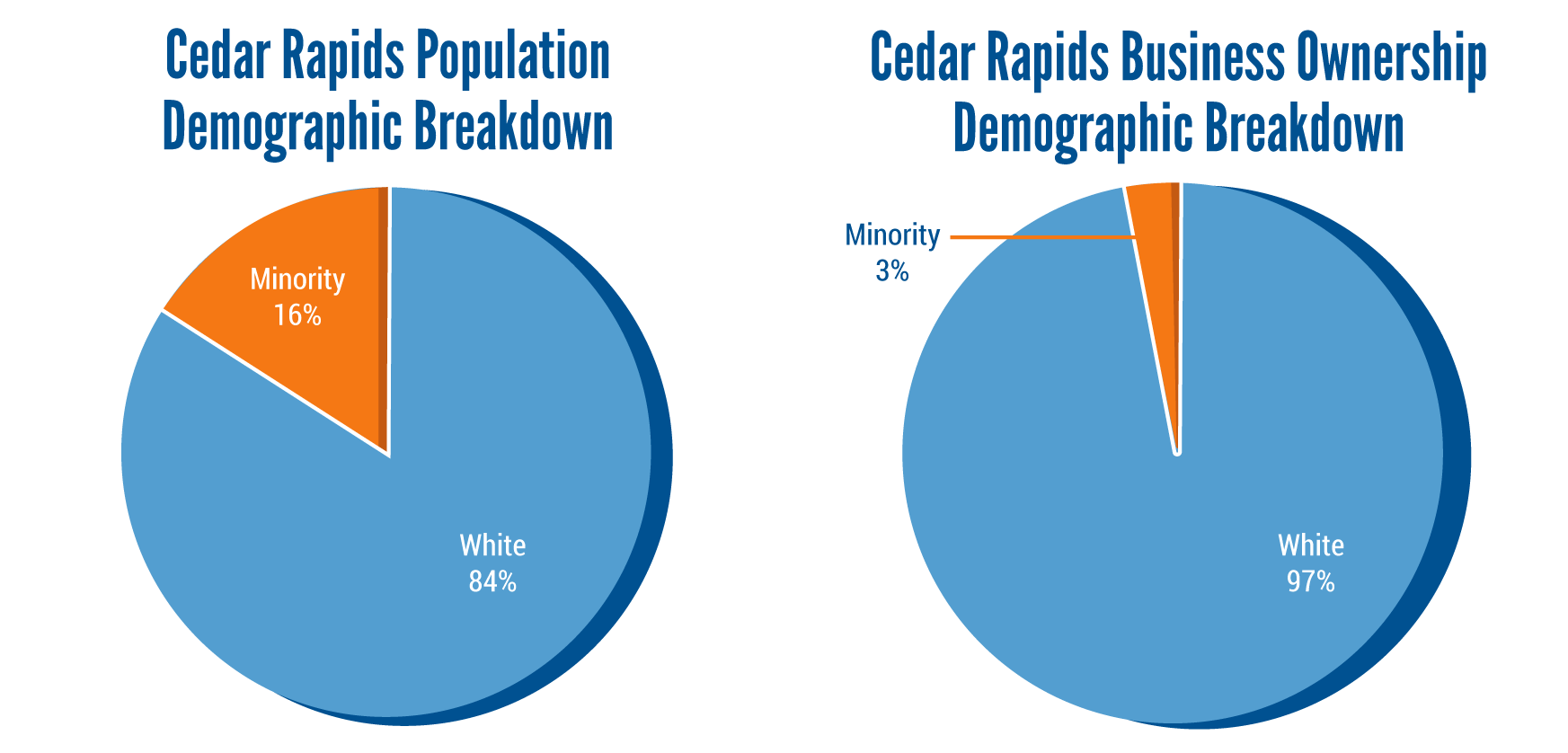 Source: U.S. Census Bureau. Annual Business Survey. Table AB1700CSA01. (2017).
In Cedar Rapids, 16% of the overall population identifies as a race other than white. However, just 3% of business owners in the city identify this way. Many reasons may attribute to this disparity including the historic inability to acquire business loans from banks and lack of support from local residents. Running a successful business is difficult, especially with limited resources and clientele so make sure to support a minority owned business this Juneteenth. It is critical to building a diverse, equitable, and inclusive community. Multiple lists of minority-owned businesses throughout the area exist on social media and local news outlet websites. Find one and give it a try. You might just find your new favorite restaurant, shop, or bar!
Many of our financial stability partner agency programs focus on job training to help members of our community find employment or improve their current professional position as well as supporting increased financial education. These options help lay the foundation for financial stability and ultimately build wealth to pass down to younger generations. While these programs are open to every individual regardless of race, they serve as viable options to members of minority communities that may be facing unjust scrutiny and discrimination. Our partner agencies are critical in helping embrace diversity, equity, and inclusion throughout the region along with donors and volunteers. We appreciate all of your efforts in making a positive impact throughout Benton, Cedar, Iowa, Jones, and Linn counties.