Learn more about the Great Rivers Conference and how it strengthens our work in East Central Iowa.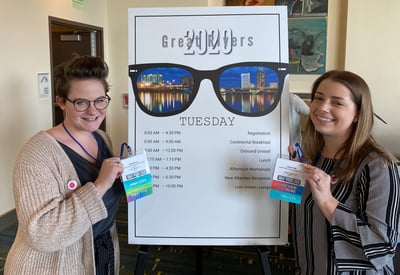 Last week, United Way of East Central Iowa (UWECI) served as the host city for United Way of Wisconsin's annual Great Rivers Conference.
The Great Rivers Conference is an annual regional conference that draws more than 300 United Way professionals from 12 states. During the conference, participants engage in workshops and breakout sessions to bring back new knowledge to use in their respective communities.
The 2020 theme for Great Rivers was appropriately titled, "Creating the Vision Together". With the start of a new decade, participants were eager to share ideas with each other, and learn how United Way is growing and implementing new strategies. Over 50 presentations were delivered throughout the conference, including several by UWECI staff. From presentations about engaging donors to new digital tools, there was a session to fit all interests.
"Everyone's passion for their communities and willingness to learn was incredibly energizing," said Ryan Schweitzer, Manager of Community Planning and Research at UWECI and presenter at the conference.
The conference also included various keynote speakers. Suzanne McCormick, U.S. President of United Way Worldwide, kicked off Wednesday's sessions encouraging attendees to find what they stand for. Motivational speaker Katrina Cravy encouraged attendees to communicate with confidence on Thursday afternoon, and comedian DJ Pryor rounded out the week with a message that encouraged forgiveness and personal growth.
"As a new member of United Way, I was very appreciative of my experience at Great Rivers," said Myah McCoy, Multimedia Specialist at UWECI. "The combination of informational sessions and networking opportunities allowed me to better understand our mission, as well as the similarities we share with other United Ways across the region."
Along with presenting sessions, UWECI staff volunteered at the registration table during the week, as well as held a host city event on Thursday night at the Cedar Rapids Museum of Art. Thank you to UWECI staff who helped out during the week through volunteering, presenting, and keeping the office up and running.
Want to hear more about our staff's experience at Great Rivers? Contact us using the info on our staff page.