Learn more about the Service Enterprise Certification & why it's beneficial for agencies and volunteers in our community!
The Arc of East Central Iowa, His Hands Free Clinic, and Waypoint have all completed their Service Enterprise Certification, which is part of a national initiative led by Points of Light that is intended to strengthen a nonprofit's ability to leverage volunteers to address community needs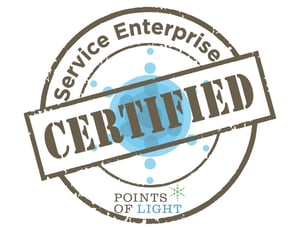 .
United Way of East Central Iowa (UWECI) serves as a Service Enterprise hub and works with local nonprofits to complete the certification program. The process includes an application, diagnostic, training, and coaching. Three organizations—The Arc of East Central Iowa, His Hands Free Clinic, and Waypoint—recently received certification and are ready to better engage volunteers to help achieve their mission.
"The process of obtaining Service Enterprise Certification has transformed how The Arc interacts with our volunteers. It has also helped us put a greater focus on the value they bring to our organization, and the importance of sharing our sincere appreciation for all they do." Anne Amrknecht, Executive Director at The Arc of East Central Iowa
"The process of becoming a Service Enterprise [certified agency] has provided insight and direction on how to improve volunteer recruitment, training, recognition, and retention." Kimberly Junge, Volunteer and Spiritual Coordinator at His Hands Free Clinic

"I believe Waypoint has a better understanding of how to leverage volunteers for more skill-based roles. I know in the coming years we will continue to use the knowledge we have gained through this process within all of our programs." Autumn Craft, Chief Development & Marketing Officer at Waypoint
There will be opportunities to complete the Service Enterprise certification process this fall. If you're part of a nonprofit organization and interested in learning more about strategically engaging with volunteers, let us know!
If you're interested in getting involved with volunteering through UWECI, take some time to explore those opportunities on our website.