Learn how Volunteer Income Tax Assistance (VITA) benefits our community and makes filing taxes easy!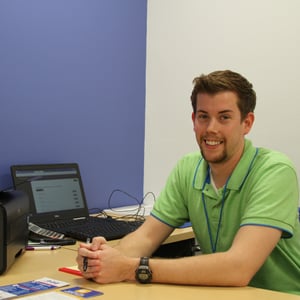 Tax season can be overwhelming for members of our community. While tax returns shouldn't be complicated, some individuals and families miss pieces during filing that could significantly impact their return total. Because United Way of East Central Iowa (UWECI) fights for the financial stability of every person in our community, this is where our VITA program comes into play.
VITA is a national IRS sponsored program coordinated by UWECI and community partners. VITA provides free preparation and filing of federal and state tax returns for families and individuals with a household income of less than $54,000. During the 2018 tax year, 109 volunteers contributed 5,086 hours and helped participants claim over $3.8 million in federal and state tax refunds!
If you qualify for VITA services, you can make an in-person appointment by calling 2-1-1 from a landline or (319) 739-4211 from any phone. A 2-1-1 representative will help you find a date, time, and location that works best for you, and they'll also let you know what forms and documents you should bring to the appointment.

If you can't make it in for an appointment, you have the option to drop off your materials and pick up your return two weeks later. Drop off takes about 15 minutes for the volunteers to make sure they have all the information needed to complete your return. Just make sure to check the list of tax documents needed, then drop them off at one of the drop off sites listed below between January 28 and March 26.
If you have any questions, feel free to explore our VITA page or contact Meredith Hershner at meredith.hershner@uweci.org or (319) 398-5372 ext. 824.
DROP OFF SITES*
Cedar Rapids Ladd Library
3750 Williams Blvd SW, Cedar Rapids
Tuesday and Thursday, 1 – 5 p.m.


Linn Area Credit Union
3375 7th Avenue, Marion
Tuesday and Thursday 10 a.m. – 2 p.m.
*Takes about 15 minutes to drop off your taxes


APPOINTMENT SITES
Horizons: A Family Service Alliance
819 5th St SE, Cedar Rapids
Morning, afternoon and evening times are available Monday—Thursday
Linn Area Credit Union
3700 Edgewood Rd SW, Cedar Rapids
Tuesday and Thursday evenings, Saturday during the day
Jones County Volunteer Center
105 Broadway Place, Suite 1, Anamosa