Learn about United Way's role in a partnership to help restore power to low-income families in Eastern Iowa.
Two weeks after Iowa's mid-August's derecho, many families have cleaned up a decent amount of damage and have power restored to their homes. However, many other families are worried about how this storm will impact their financial stability. To help these families, a community collaboration has been formed to bring electricity to Alliant Energy customers that are still without power because of storm-damaged equipment on their homes.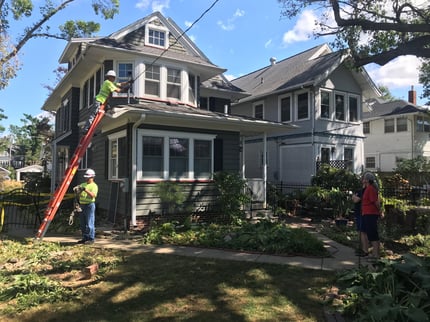 Project ReConnect has been formed in partnership with the Alliant Energy Foundation, United Way of East Central Iowa (UWECI), HACAP, and the Local Labor Management Cooperation Committee (LLMCC). This program will help Alliant Energy customers reconnect personally owned exterior electrical systems, including the meter box, service mast, and weather head to restore power to their homes at no cost. Without these components, houses cannot receive power, even if their neighborhood circuit is online.
"It's clear the derecho has greatly impacted those families who live on the edge of being financially secure. The additional stress and expense of having to reattach the electrical box or mast to a home could be the difference between remaining financially secure or not for some families," said Kristin Roberts, President & CEO of UWECI.
The Alliant Energy Foundation is seeding the project with an initial $60,000 for the Cedar Rapids area and is matching any employee gift with a 2:1 ratio. UWECI has committed $40,000 from the Disaster Recovery Fund to Project ReConnect, which brings the initial total to $100,000.
The combined funding from Alliant Energy and UWECI will help HACAP handle case management and dispatch electricians to customers. The Local Labor Management Cooperation Committee (LLMCC) has committed to providing $25,000 to Project ReConnect to pay for materials. The LLMCC is comprised of local union electrical contractors who employ IBEW Local 405 electricians. These contractors will be offering a discounted rate on their time in efforts to stretch the dollars further.
"We are excited to partner with the Alliant Energy Foundation, HACAP, the LLMCC, and our local union folks on this project to make sure those vulnerable to unexpected high expenses don't falter," Roberts added.
To receive assistance through Project ReConnect, customers can contact HACAP at 319-739-0056. Alliant Energy customers who are responsible for their own utilities and need help financial assistance to pay for these repairs are encouraged to contact HACAP to apply.