Learn about our last spotlight of National Volunteer Month, Lindsay Glynn.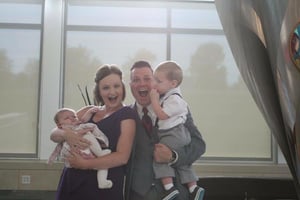 The last week of National Volunteer Month brings our last volunteer highlight. Lindsay Glynn is the Associate Executive Director at AbbeHealth Aging Services—a United Way funded partner—and has known since a very young age that she wanted to give back to the community.
"I've always known that I needed to make a difference and the opportunities to do so in your career are vast. When I went to college, it was eye-opening that there are so many ways to help people," said Lindsay.
With an undergraduate degree in nonprofit administration and a master's degree in gerontology, Lindsay has worked exclusively in the nonprofit industry with the aging population. Her dedication to the community doesn't stop there, though, as she finds a variety of ways to give back outside of work.
"It's been really meaningful for me to volunteer because I can direct my focus and attention to aging during the day and then I can be involved in so many other areas [of the community] outside of work," said Lindsay.
So how does she fill her free time? She is on the Board of Directors at Iowa Valley Habitat for Humanity and serves on the Waypoint Gentleman Campaign committee. She hosts diaper drives and finds take-home arts & craft activities to complete with her kids, and during the holidays, she enjoys volunteering with the Red Kettle campaign and The Arc's Wrapping for a Cause.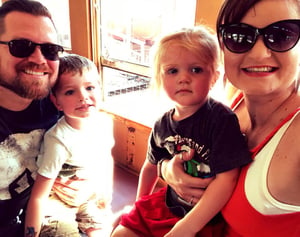 All of these commitments keep Lindsay (and her family!) busy, but giving back is an important aspect of their lives.
"A value of our [family's] is to give back to the community what it gives to us," said Lindsay. "Beyond that, we want our kids to truly want to make a difference, help others, and feel fulfilled."
When asked what advice she'd give to people looking to get involved with the community, Lindsay said, "Really explore what's important to you. That will give you the drive and a why. People give back in ways that make sense for them, and there's not one right or wrong way to do it."
She also encourages everyone to check out Volunteer Now.
"It's seriously the coolest thing ever," said Lindsay. "You just go to the site, look through agencies and organizations, and see what's out there. It's a simple and easy way to find and sign up for volunteer opportunities."