Learn more about LAP-AID's role in helping our community in the days and weeks following Iowa's derecho storms.
When the derecho storm ripped through East Central Iowa last month, a range of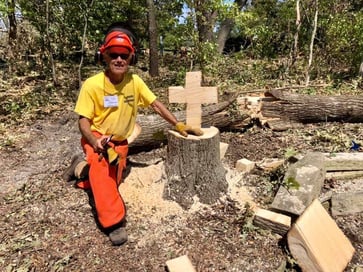 emotions set in. Sadness, fear, anxiety, and stress touched everyone who were faced with a long road to cleaning up debris, trying to contact family members, and living for an unknown period of time without power or service. However, the "Iowa nice" mentality in our community shined through, and efforts from organizations like Linn Area Partners Active in Disaster (LAP-AID) only increased the ability to help our neighborhoods recover.
LAP-AID, which is comprised of over 40 local member organizations, started working to respond to the disaster through various projects and initiatives. Through community collaborations, they were able to:
Coordinate all volunteers for all City of Cedar Rapids meal sites, which served meals two times per day for seven days to 11 sites.
Coordinate intake of product donations from the community and other states and secured a warehouse for large donations.
Connect with mobile home park managers and help organize cleanup requests for their properties.
Coordinate five neighborhood resource centers with other area partners, such as the City of Cedar Rapids and the Greater Cedar Rapids Community Foundation.
Having a streamlined coordination process during the days immediately following recovery allows for more efficient and less duplicative service delivery.
In addition to coordinating donations, LAP-AID also assisted with volunteer efforts. The Linn County Emergency Management Agency (EMA) activated the Emergency Volunteer Reception Center and it was up and ready to help less than 48 hours after the derecho hit. United Way of East Central Iowa (UWECI) helped in the coordination of these volunteers through Volunteer Now, as well as state and federal relief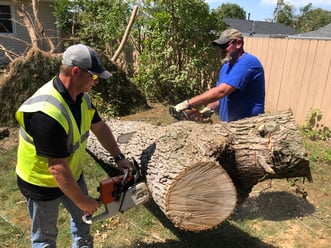 organizations. From August 13 to August 30…
2,589 volunteers worked 12,947 hours, averaging out to five hours per volunteer.
56% of volunteers helped in more than one volunteer category (food distribution, debris clean up, etc.)
LAP-AID collaborates with community nonprofit organizations, during disasters. UWECI's role in LAP-AID is connecting resources needed and resources available not only in times of disaster but every day in the 5 counties served. As the cleanup and long-term recovery process continues, LAP-AID continues to provide resources to those who still need assistance.