Hear from our President & CEO on her first year leading and learning about United Way of East Central Iowa (UWECI).
Wow. A year has passed since I began the humbling journey of leading this great organization. In some ways, it passed in the blink of an eye and in others, it was the longest year ever.
Six weeks in, just as I was starting to go home with a less-dazed look on my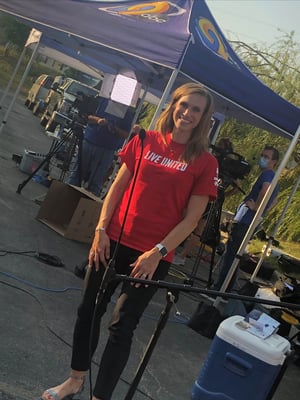 face, COVID-19 hit our community and nation. The realization of what we were facing came swiftly, and in the blink of an eye we were all scattered across the community, working from home. And, of course, August 10, will be a day I never forget when the derecho hit our communities: flattening us, but never keeping us down for long.
I'll admit that there have been the stress-induced eye twitches and the sleep-deprived running injuries this past year, but I wouldn't have traded it for anything.
This has been an astonishing experience. I thought I was going to learn A, B, and C, and instead learned X, Y, and Z. And that's okay. Learning so many different aspects of what UWECI does—especially during last year's events—stretched me as a leader, as a community member, and as a parent and spouse.
I also experienced, first-hand, the amazing collaborative nature of UWECI's staff and volunteers, how that extends out into our community, and how it brings us together in our work across the five-county area. I have been on the front lines of showing everyone, why United Way is so essential to our community. Not being narrowly focused on one single issue but on what the data tells us is happening in the area opens our eyes to what is priority. We have the networks to bring big ideas together. And, we have the gumption to put them into to motion because it is what our neighbors need. I know we will continue to move the needle on these priorities, as we move forward into what this year has in store.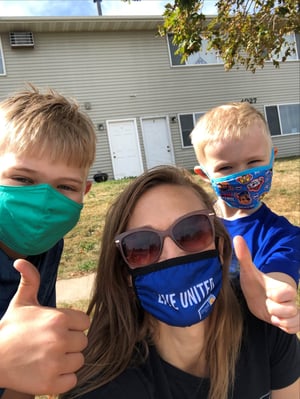 And I have been humbled to sit in this seat and take your calls and accept all forms of your support. It has been overwhelming some days. Whether giving a dollar, a volunteer hour, or your voice, you saw our hurt and struggle and supported us; not only during the hard times of last year but also for the sheer opportunities that lie ahead of us. For that, we are grateful.
Whether we have had a personal interaction or not this past year, thank you for your encouragement. Each email opened, each comment in the grocery store, each dollar given has been a remarkable reassurance to continue pushing forward through the hard work this last year included. Thank you for the opportunity to serve this great community we all call home. Cheers to 2021 and what the next year will bring!