Learn more about this year's Women United Chair, Jessica Horaney of Collins Aerospace.
Jessica Horaney will be stepping into a new role with Women United, but she has been actively involved with United Way of East Central Iowa (UWECI) for a number of years. Learn more about where she's from, what she's passionate about, and how she got involved with Women United below.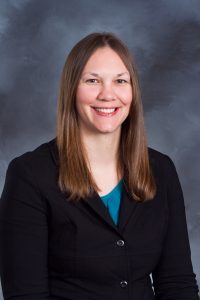 Tell us a little bit about yourself. This could include where you're from, where you work, what you like to do in your free time, etc.
I grew up in a small-town north of the Quad Cities, but I now live in Marion with my husband Joe, our three kids (Dylan -19, Betty - 9, and TJ -7), and our dog Liberty.
I have worked at Collins Aerospace since 2001. I currently lead the engineering teams responsible for the development of our Flight Management Applications on military aircraft and helicopters. My favorite work experience has been putting together an exhibit for the Smithsonian Institute! In my free time, I enjoy coaching and watching my kids' activities, sports, trivia, traveling to visit friends, family, and new places, and volunteering.
What's something unique that people don't know about you?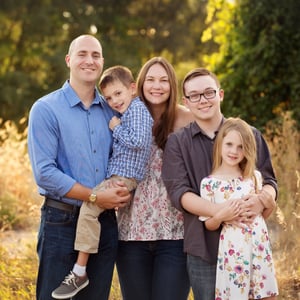 I love going to concerts and have a very wide range in musical tastes - I've been to everything from Billy Ocean to Slipknot! I even got to sing with Mark Slaughter once at a Slaughter concert.
What would you say is your motto or a quote you like to live by?
"It's better to regret something you did than something you didn't do."
What causes are you most passionate about? What are your favorite ways to give back to the community?
Any organizations that promote the success of women and children and/or encourages girls to consider careers in STEM fields are where my passions lie. I am passionate about several nonprofits, with my favorites being Women United, Women Lead Change and Corridor Women Connect, YPN, NewBoCo K-12, and FIRST. Judging at the regional Lego League competitions is such a fun way to see kids getting excited about STEM while sharing amazing ideas to engineer solutions for real world problems!
Why did you decide to get involved with United Way and Women United?
I have been donating to United Way and Women United for some time, but I truly became passionate about Women United in 2014 when we held a joint United Way Campaign Kickoff and women's forum at our company. A speaker came from Community Free Health Clinic and shared the impact that Women United was having on our community. I became an advocate overnight and helped to double our Women United donors in that year.
When Women United introduced funding for care coordinators, one shared a story of being able to help a woman on the brink of suicide. Ever since, I knew this was a cause that was important to me to be successful—it is literally saving the lives of women right here in Eastern Iowa.
Do you have any advice for others who want to be more active in the community?
See my response to #3 and "go do it!" There are so many needs and ways to get connected to helping our community (Volunteer Now is a great way to find opportunities!). If you are unsure where to start, talk to someone you know who is an active volunteer or help at an event to see if it's something you enjoy before making a bigger commitment!
A question I often get asked is, "You have a demanding job and family, how do you find the time and energy to volunteer?" My answer is simple, "when you do what you are passionate about, it brings you energy. Volunteering helps me be a better at everything."