Learn how to make change based on your role in our community.
"Volunteers are the heart of our organization; we couldn't do what we do without them!"
Sometimes it seems like everything being said about the role volunteers have at nonprofits is cliché, but nevertheless, it's very true. For many organizations in Eastern Iowa, volunteers are essential for running day-to-day operations, improving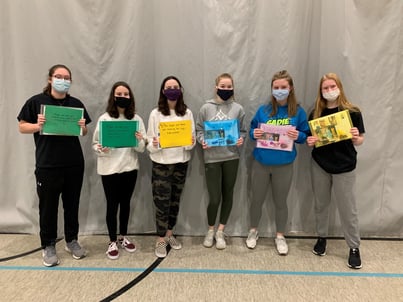 processes within organizations, and ensuring that no detail is overlooked. Volunteers with a shared purpose can make a significant impact in our community, and there's no better time to celebrate the efforts of dedicated volunteers during National Volunteer Month! Here are some ways you can celebrate through appreciation and service.
If you're a volunteer…
Encourage others to do good with you. Strength comes in numbers, and this is definitely the case with volunteering. Invite your friends, family members, coworkers, or other individuals you know to sign up for a volunteer opportunity. Volunteer Now is a great place to find volunteer opportunities in Eastern Iowa based on your interests, skills, and passions.
Share your story. People relate well to other people and hearing about their experiences. Inspire other people to volunteer with you by sharing your volunteering experience and encouraging others to get involved. Whether you share a story with the organization you volunteer with or write a post on social media, you're reminding others how important it is to give back.
Remember that volunteering isn't a one size fits all. Doing good comes in many forms, whether that's at a local food bank, with a wallet, a vote, or a voice. Find a way of giving back that fits your lifestyle and uses the passion you already have to maximize your contributions to the community.
If you're a volunteer manager at a nonprofit organization…
Call your volunteers to thank them! Let them know how much they're appreciated and how their work impacts your organization. Better yet, ask them for ideas on how you can continue to improve processes for your organization. They may have an idea or perspective you haven't thought of before.
Strategically engage your volunteers. Do you have an amazing team of volunteers and want to their time and skills to strategically address community needs? United Way of East Central Iowa (UWECI) serves as a Service Enterprise hub and works with local nonprofits to engage volunteers in an impactful way.
Host a volunteer fair. Volunteer fairs are great ways to recruit new supporters and introduce them to projects, programs, and area partners. The best part? These can also be held virtually! Consider partnering with a local campus or community center to maximize your reach and build relationships.
If you're part of a workplace volunteer team…
Connect with other social-minded companies in your area. Volunteerism brings balance to employees' lives and brings skills that improve job performance. UWECI's Workplace Volunteer Council establishes, grows, and sustains successful workplace volunteer programs to create a culture of volunteerism. You can learn more about WVC here.
Find community-wide volunteer events to participate in. From events like Day of Caring to city-wide cleanup days, events like these are a great way to give back, as well as meet and network with other area companies who have similar values.