Learn how you can recognize outstanding individuals through our annual Volunteer Awards.
Volunteers are an important foundation of many nonprofit agencies and bring many skills and resources to the table—and we all know organizations, groups, and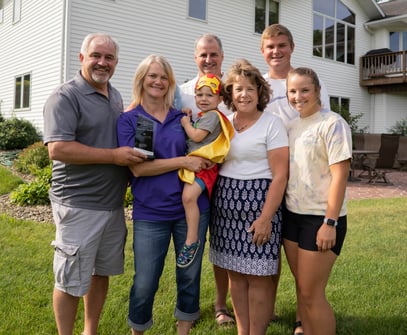 individuals who are dedicated to volunteering. Each year in April, in light of National Volunteer Month, United Way of East Central Iowa (UWECI) hosts an event recognizing those who are impacting our community through volunteer efforts in our five-county service area. But in order to recognize these outstanding individuals, we need your help!
Nominations for our 2021 Volunteer Awards are open! If you know a volunteer who goes above and beyond for a cause they are passionate about, then this event is the perfect opportunity to thank them for all they do! Nominations can be sent in by both area organizations and individuals. If you submitted a nomination last year and the volunteer did not become a finalist, you can still nominate them again this year.
In keeping with a commitment to social equity and community change, we have added the Social Impact Volunteer Award to our list of award categories. This award honors an individual or group who, through innovative volunteer efforts, strive to address social equity and create sustainable community change.
After all nominations have been compiled, the top three finalists in each award category will be decided by community votes. The winners of each category will be selected by members of our Young Leaders Society—a group of volunteers themselves. Winners will receive $500 to donate to a nonprofit of their choice and will be announced at Time for Art: A Celebration of Volunteers on Friday, April 16. This event includes a silent auction where attendees can bid volunteer hours instead of dollars on donated works of art from local artists. If you or someone you know is a local artist, consider donating a piece of art for the event!
Nominations for the Volunteer Award are being accepted now through Sunday, January 31, so send in your nominations sooner rather than later!