Learn more about our funded partner, Foundation 2, and how their services are crucial for our community.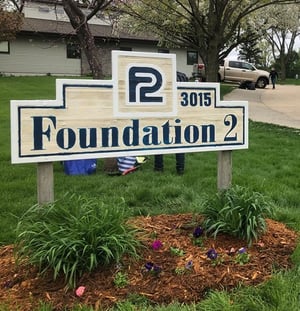 Almost 49 million adults experience mental illness each year in America. Mental, social, emotional, and behavioral health impact our quality and length of life just as physical health does.
Many United Way of East Central Iowa (UWECI) funded partners work to support individuals facing mental health struggles. One of which is Foundation 2, who offers suicide prevention and crisis intervention programs to people of all ages from all walks of life. They are committed to positive youth development, suicide prevention, and helping individuals and families build the foundation they need to become stronger, healthier, and safer.
Foundation 2's crisis services include:
Phone Counseling: If you find a crisis number in the Cedar Rapids area, it's likely you'll be in touch with Foundation 2.
Chat & Text: Both options provide outlets for people of all ages who are nervous or restricted by their surroundings to ask for help out loud.
Mobile Crisis Outreach: With around 215 dispatches each month, counselors come to sites (sometimes alongside CRPD) to help navigate situations, de-escalate emotions, and begin building next steps. Counselors are available 365 days a year 24 hours a day.
"The work we do is really important. I'm so proud [of our team]," said Foundation 2 Chief Executive Officer, Emily Blomme. "We're working hard to meet people where they're at, help them figure out what they need, and connecting them to other agencies for long term support."
Last year, over 70 people had already taken an active step to end their life when they reached out through the crisis line. Foundation 2 was able to send rescue to all of the callers, and all survived to live another day. Foundation 2's Crisis Center is just one of two agencies in Iowa with a certification by the American Association of Suicidology.
"We know there's a mental health crisis in this country, so every time we can dispatch a counselor alongside a [law enforcement officer], we are able to help stabilize someone, perform a suicide screening, and instead of taking the most extreme measures, connect them to other community resources," said Foundation 2's Chief Development Officer, Katie Curtis. "We truly are stronger together."
Foundation 2 also has an Emergency Youth Shelter and is a member of the Iowa Aftercare Services Network (IASN).
The shelter provides primarily short-term stays for children ages 11-17. Whether the kids are unsafe in their home, experiencing behavioral issues, or are experiencing homelessness, the shelter does everything in its power to make the kids feel as much at home as they can.
"In a world where they have zero control, we want to give them as much as we can," said Blomme.
Foundation 2's Independent Living Program support youth who have aged out of the foster care system in terms of managing finances, securing housing, and preparing for school and/or work.
While 1 in 5 adults in the U.S. live with a mental health condition and 20% of children are affected by mental health disorders, Foundation 2 is working day-in and day-out to ensure the members of our community are supported and given the information they need to reach their full potential.