Learn how we fight for the health, financial stability, & education of women in our community.
October is a big month for women's health, as it is National Breast Cancer Awareness Month and National Domestic Violence Awareness Month. Breast cancer is the most common cancer in Iowa women. [1] And of the last reported number of domestic violence cases in Iowa, 78% of the survivors were women.[2] For this month's Data Dialogue, we'll dive into some of the challenges women face in our community and how United Way of East Central Iowa (UWECI) works with local partners to create lasting change.
According to United Way 211 survey of females utilizing our funded partner programs[3]:
35% reported they were not receiving care for an identified medical need
72% stated they or someone in their household had unaddressed mental health needs
47% of mothers had experienced at least 11 poor mental health days per month
According to a Centers for Disease Control Quality of Life Survey, as a woman's income decreases, so does their mental health. Unfortunately, low-income mothers are twice as likely to experience some form of depression in their lifetime. [4]
It became evident to us that the link between financial instability and poor health is direct.
So, what are we doing to help address women's health?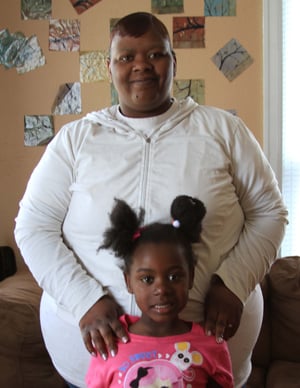 Women United is a dedicated program focused solely on improving the well-being of women in our community. This is achieved by partnering with local nonprofit healthcare organizations—Eastern Iowa Health Center, Community Health Free Clinic, and Area Substance Abuse Council's Heart of Iowa—to address unmet needs of un- and under-insured women. Over the past decade, Women United has raised $1.2 million which has gone toward prescription assistance, preventative screenings, care coordination, medical co-pays, dental services, and more.
Additionally, UWECI's funded community partner, Waypoint, not only treats the urgent needs of domestic violence survivors, but works to stop the cycle of violence through advocacy, counseling, and other critical resources. Last year, they served more than 2,000 new survivors of domestic violence in East Central Iowa and 96% reported feeling safe after working with a Waypoint Victim Advocate.
We know that women are tough, resilient, and strong. And when it comes to accessing and pursuing an education, they're driven.
A greater portion of males in our community choose to end their education following high school graduation, while females often go on to pursue college degrees. Yet, there are large gaps in earning at these levels of education (shown below). Women are making substantially less than their male colleagues with the same education level and, in a majority of cases, earn less than males with a lower education level. In the most extreme cases, males without a high school education earn 90% more than females without a high school education.
Of the families in our five-county service area with children under the age of 18, 13% are single-female headed households. [5] These tend to be the most vulnerable, and some estimates suggest up to 70% of single-female headed households are financially unstable.
So, how do we also encourage career growth and the pursuit of education?
Many of our funded partners provide programs and resources allowing individuals to secure and maintain stable, full-time jobs while still supporting the health and well-being of their families; think accessible, affordable childcare, job training, financial and budget coaching, and much more.

You can learn more about the women in our community through our Condition of Women Report.
[1] https://uihc.org/health-topics/breast-cancer-facts-and-figures
[2] https://www.thegazette.com/IowaIdeas/stories/human-social-services/domestic-violence-rural-iowa-surviving-distant-shelter-services-for-domestic-violence-survivors-jones-county-delaware-county-20190224
[3] Women's Leadership Initiative. 2-1-1 and WLI Partner Survey. Fall 2015
[4] Centers for Disease Control. Behavioral Risk Factor Surveillance System. Health Related Quality of life Survey.
[5] U.S. Census Bureau, 2017 American Community Survey 5-year Estimate, Table B1 1001