This month's Women United Member is June Rainbow of Rockwell Collins. See what causes she's passionate about and why she chose to get involved with WU.
Tell us a little bit about yourself. What do you do for fun?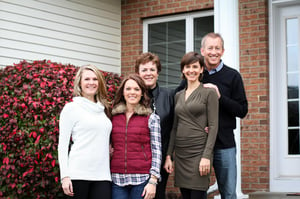 I was born and raised in South Dakota. I majored in accounting at UNI and shortly after graduation received my CPA certification. I joined Rockwell Collins in 1981, and in the last 37 years I've had the opportunity to work in Finance, Program Management, Proposals, Subcontracts, Legal, Simulation & Training Solutions and Publications and Training. I currently lead a team of 25 people in Program/Project Management, Distribution, Lean, Strategic Integration and SW Tools development.
Pete—my husband of 26 years—works at Schneider Electric. Together we have three daughters: Sarah who is a Partner at BerganKDV, Melanie who is an Assessment Designer in Math at ACT, and Stephanie who is a Target Store Manager in Brentwood, TN. We also have six beautiful grandchildren.
For fun, I love playing with my grandchildren, golfing, bicycling, and baking cakes.
What's something unique that people don't know about you?
I bake cakes professionally – from wedding cakes to birthdays to special celebrations.
What causes are you most passionate about?
I am passionate about empowering women to grow personally and professionally. It's rewarding to see women grow and become educated and confident.
Why did you decide to get involved with United Way and Women United?
I had my first daughter in college and didn't have much money at all. We struggled financially and made just enough money to NOT qualify for certain assistance. I wish Women United existed back then as I definitely could have been a recipient of their services.
I also grew up volunteering in my community. I volunteer now to help provide women with these services, educate them, and to give them hope. It's so very heart-warming to hear their stories and to see how Women United has helped them.
Do you have any advice for others who want to be more active in the community?
We all need a sense of belonging. It's what connects us to the community we live in, assists us in developing new relationships, and helps us grow our networks. My advice to others is to first define your passion(s). Then, find an organization or two that falls within your passion and dedicate your time (yes schedule it on your calendar!) and your talents. You will be happy you did!