Mindy Olson, Paulson Electric, is an active member of our Women's Leadership Initiative (WLI). As part of the WLI Advocate Committee, she and other members fundraise and educate the community about WLI's work through events and other communication. Learn more about Mindy by reading her responses below.
Tell us a little bit about yourself. What do you do for fun?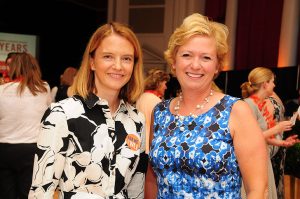 I grew up in Cedar Rapids, left for college, and lived in a couple places around the country before moving back to the area in 2010. My husband and I have two kids so I spend a lot of my free time doing things with them, whether it is playing sports, coloring, or reading.
Besides that, running is my main hobby. I run most days and like to run both local races and races located in fun places to visit.
What's something unique that people don't know about you?
Most people probably don't know that I played rugby and squash in college. I also spent a semester studying in Moscow.
Why did you decide to get involved with United Way and WLI?
I decided to get involved with Women's Leadership Initiative because women's healthcare is one of my passions! My advice to anyone who wants to be more active in the community is to just sign up for something you enjoy. Find organizations that support something you are passionate about and contact them to see how you can get involved.
How do you see WLI making a difference in our community?
WLI is definitely making a difference in our community by improving access to healthcare for women. I have really enjoyed getting to learn more about the partner agencies and how they are helping the community. They are doing great work, and I am proud to be a WLI member!
---
Save the Date: May 23, 2018
We will host our annual WLI Luncheon on Wednesday, May 23 at the Cedar Rapids Country Club. Join members and non-members alike to hear how WLI works with our health partners to provide funding for women's healthcare services. Plus, see how WLI funds support women in need right here in East Central Iowa.