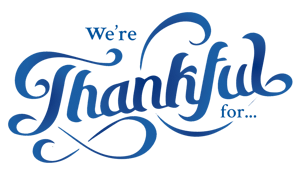 The temperatures are dropping, travel plans are in the making, that must mean the holiday season is upon us. United Way of East Central Iowa's (UWECI) team wanted to take this week of thanks to share what we are thankful for—from traveling the world to eating good food and from spending time with family to reminiscing on memories, the variety of thankful statements are nothing short of serious, silly, and inviting. Here's a little inside look at what our team is thankful for:
"I'm thankful for my career. For 32 years I've worked for an organization that has positively impacted communities and affected peoples' lives in a positive way, and it has allowed me to work with some incredible people." Tim Stiles, UWECI CEO
"I am thankful for my kiddos who rally behind me every day—they show me that I am loved, supported, and secure." Kayla Paulson, UWECI 55+ Initiative Senior Coordinator
"Last year, [my mom] was diagnosed with stage four cancer on Thanksgiving Day, but this year I am most thankful that I get to celebrate with her. I am also grateful for my United Way team who rallied around me during that time—it was really great to have that support system." Amy Keltner, UWECI Jones County Volunteer Center Coordinator
"I am thankful for being able to travel—to see amazing cultures and different parts of our wonderful world." Laura Columbus, UWECI Senior Coordinator of Education Initiatives
Collectively, UWECI is thankful for our generous community and committed partner agencies. We are proud and honored to work alongside you all in our fight to break the cycle of poverty. Whether you're able to make a difference through volunteering, advocating, or giving, we are thankful for you!
Check out our video to see what else we are thankful for this year.