VITA Volunteers Needed for 2019 Tax Season
The Volunteer Income Tax Assistance (VITA) program provides a pathway to reach one of our organizational goals: to increase the financial stability of members of our community. With the help of dedicated volunteers, VITA provides free tax preparation and filing services for low- and moderate-income individuals and families earning up to $54,000, who otherwise would not be able to file their annual tax returns.
You could be one of those making a difference. As a VITA volunteer, you will benefit the community by helping people receive tax credits they qualify for. The money these families receive from their tax returns will help them pay bills, put food on the table, and prepare for their futures right here in East Central Iowa.
The overwhelming response from VITA clients is one of relief and gratefulness. For example, a single mother received a federal refund totaling more than $11,000 last year! The child tax credit, earned income credit, and education credit all contributed to her total return. Through tears of joy, she said, "We have been living in a shelter, and I was going to stay there until I was done with school. But now, I can make a home for my kids."
Last year alone, returns through VITA brought $3.6 million back into our community and the program completed 2,225 federal tax returns.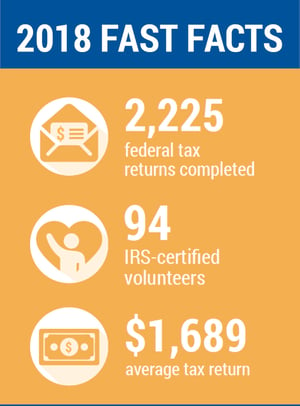 As the program continues to grow, so does the need for volunteers. VITA is looking for 75-85 volunteers for the upcoming tax season to serve in the following roles. No prior experience is necessary as training is provided.
Tax Preparers: At VITA sites, you'll meet with taxpayers to gather information, review documentation, and prepare tax returns. Free IRS tax training is available with basic or advanced level certification. We will also need multilingual tax preparers.
Intake Specialists: First point of contact for the new drop-off process. You will review taxpayer documentation to ensure complete information and finalize the process by securing their signatures.
Greeters: Welcome taxpayers and oversee sign-in process. Complete checklist with taxpayer to confirm proper documentation and call next day clients to confirm their appointments.