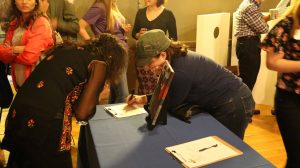 On Friday, April 28, we held our third annual Time for Art event at CSPS Hall.
The silent auction offered more than 50 pieces from local artists including photography, paintings, jewelry, ceramic, furniture, and even skateboards! Several nonprofits joined us at the event to give bidders an idea of how and where to volunteer after they win a piece of art. In addition, attendees enjoyed appetizers, live music, door prizes, and free caricatures.
We also announced artist awards for those who donated pieces:
Community Impact Award: Willie Buckets
Artists' Choice Award: Ben Ford
Young Professionals' Choice Award: Marq Spusta
Together, bidders helped pledge a record 3,789 volunteer hours through the silent art auction. Once winners complete their hours, they'll earn their artwork and contribute volunteer time worth more than $91,000 combined!

Thank you to sponsors, contributing artists, and committee members for helping make this event a success.