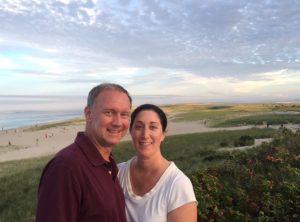 Welcome to United Way, Karen! Karen Lewis recently joined our Community Building team as Senior Manager. Get to know Karen by reading her responses below.
Tell us a little bit about yourself. What do you do for fun?
I moved to Cedar Rapids from Cape Cod, Massachusetts two years ago and have been enjoying getting to know the people and the places that I now call home. During free time, I enjoy playing tennis and golf. In colder weather, you can find me in my favorite chair reading history or fiction books. My husband and enjoy cooking gourmet meals to share with friends.
What's something unique that people don't know about you?
I am a classically trained ballet dancer and avidly pursued that passion for ten years. I even got to dance with Mikhail Baryshnikov!
What do you love most about working at United Way?
Collaboration! I love the opportunity to work with so many of the wonderful volunteers, nonprofits, and public agencies that are doing good in our region.
Outside of United Way, how are you involved in the community?
I am a board member for the League of Women Voters of Linn County and volunteer for the Kids on Course fundraiser.
What is some of the best advice you have received?
Any advice that came from my Grandmother. She was wise when it came to giving advice about family, friends, and food!
Share a favorite quote.
"Your work is going to fill a large part of your life, and the only way to be truly satisfied is to do what you believe is great work. And the only way to do great work is to love what you do. If you haven't found it yet, keep looking. Don't settle. As with all matters of the heart, you'll know when you find it." — Steve Jobs