Welcome to United Way, Amy! Amy Anderson recently joined our operations staff as Coordinator of Pledge & Reporting Services. Get to know Amy by reading her responses below.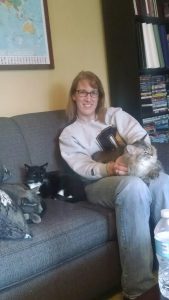 Tell us a little bit about yourself. What do you do for fun? Spend time with family, Rough Riders season ticket-holder, car shows, and quilting.
What's something unique that people don't know about you? I lived in California for 15 years before returning home to be near family in Iowa.
What do you love most about working at United Way? I enjoy the positive energy in the office and amongst the staff.
Outside of United Way, how are you involved in the community? I'm involved with the Linn-Mar School District with my son, who is in high school.
What is some of the best advice you have received? Always believe that something wonderful is about to happen. Life is short. There is no time to leave important words unsaid.
Share a favorite quote. Everything you need will come to you at the perfect time. If it's meant to be, it will be.