Learn how the Gazette uses Volunteer now to keep their employees engaged with volunteering.Tell us about your employee volunteer program.
The Gazette launched its Employee Volunteer Program in April 2016. This program gives employees 12 paid hours per year to apply their talent to organizations and causes meaningful to them. Employees determine goals to achieve through program-increased knowledge about industries, build relationships and network with community resources, build their own skills, and, of course, serve their selected nonprofit. Employees and supervisors review volunteer goals with help from Volunteer Now.
How do you use Volunteer Now as a tool to connect your employees to volunteer opportunities?
Volunteer Now is The Gazette's primary resource for exploring opportunities aligned with employees' goals and interests, especially those who have an interest in volunteering but want more information
about organizations that offer opportunities. The volunteer resume and tracker is a terrific source for our employees and company to review experiences and relationships over time, along with the value our company contributes to local nonprofits. Volunteer Now allowed The Gazette to launch its employee volunteer program in a much more timely manner. We thought we would need to build the program internally but United Way already set up the foundation!
Why do you use Volunteer Now to track your company hours?
The Volunteer Now program is incredibly user-friendly and allows employees to document their hours and research opportunities. As a company that has employees working a variety of days, departments, and shifts, it is critical to have a resource that is easy to navigate and accessible both within and outside our office setting and system. Tracking hours through Volunteer Now allows our leadership team to cross reference hours requested and approved by supervisors with our internal communication and serves as an effective collective look at all of our departments and volunteer contributions.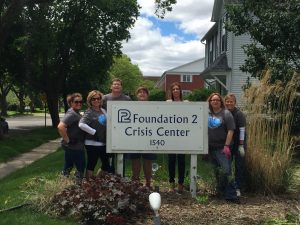 How do employees respond to using Volunteer Now?
One of our employees discovered volunteer opportunities through the Cedar Rapids Public Library. She and her family found a variety of programs through their Summer Dare series. The win for this employee is the balance of work and family commitments making it challenging to volunteer after working hours. Our volunteer program and Volunteer Now provided great opportunities for her in both the experience itself and discovery of new ways to enjoy one of our community's wonderful community hubs with her family.