In honor of National Volunteer Month, we're spotlighting great volunteers and programs in our community. This week's feature is the Jones County Volunteer Center.
Located in Anamosa, the Jones County Volunteer Center (JCVC) maintains partnerships with a variety of nonprofits in Jones County in order to assist community members in finding the perfect volunteer opportunity. Here are a few ways they do just that.
Direct Service Programs

Elderly Outreach Assisted Transportation volunteers drive senior clients to non-emergency medical appointments outside of Jones County. Last year, volunteers traveled more than 70,836 miles!
Volunteers with Senior Health Insurance Information Program (SHIIP) offer free counseling on Medicare, Medicaid, and marketplace options and saved clients $24,600 last year.
Trained and certified Volunteer Income Tax Assistance (VITA) volunteers provide free tax preparation for individuals and families with annual income less than $54,000. For tax year 2016, VITA saved Jones County taxpayers nearly $184,000.
Emergency Volunteer Center (EVC) helps during times of disaster in Jones County.
Food Bank Assistance volunteers assist families who visit Jones County food pantries.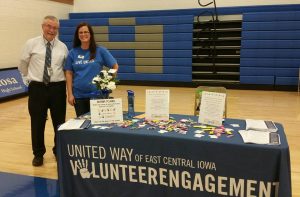 Days of Service
During Days of Service, JCVC recognizes local nonprofits with volunteer projects such as baking for local law enforcement, yard clean up, painting, supply drives, and more. Days of Service occur throughout the year for any group of volunteers looking to give back to their community.
Events & Training
JCVC also hosts events and training opportunities throughout the year. On Tuesday, April 25, JCVC and Jones County Emergency Management will host emergency volunteer center training for those interested in helping people affected by a disaster. Read more about this training here.
Learn More
For more news and events, follow JCVC on Facebook or visit Volunteer Now to find volunteer opportunities in Jones County.