Amy Keltner is our Jones County Volunteer Center Coordinator. Learn more about how the center and its volunteers truly make a difference for rural families.
Opportunities range from short one-day gigs to long-term commitments. Some people visit the center and dive right in after learning about our daily transportation program for elderly citizens who need rides for medical appointments. It's a great way to give back to those who paved the way for our community. In the past year, volunteers for our program drove nearly 70,000 miles to ensure quality healthcare for Jones County seniors.
Jones County Volunteer Center (JCVC) offers a wide variety of volunteer opportunities. Our mission is to engage volunteers of all ages in services to meet critical community needs, while providing a high quality experience that will enrich the life of the volunteer.
Other folks walk in to volunteering with very limited time, but still want to be able to give back in some way. These volunteers contribute their time and talent to projects such as Day of Caring, Patriot Day, and Family Volunteer Day. Projects and events like these bring a variety of activities including yard work, playground cleaning, park clean up, hygiene kit assembly, food drives, and so much more! For our last Patriot Day project, we raised $600 from new donors and engaged a new group of volunteers, Olin 4-H Club, to put together 100 hygiene kits for our local veterans and families in need.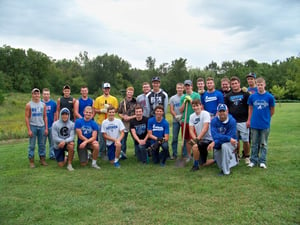 JCVC also participates in the Volunteer Income Tax Assistance (VITA) program. VITA volunteers in Jones County prepared 169 free tax returns for low-income families. In addition to saving these taxpayers an average $176 in preparation fees, VITA helped clients receive $196,000 in federal returns last year!
With ample volunteer opportunities in Jones County, we engaged volunteers in 4357 volunteer hours—valued at $105,181.60 in paid employee time. What a huge impact on our rural community!
If you are wondering what our volunteers think of their engagement here at Jones County Volunteer Center, just ask Treva.
"I find volunteering for local agencies to be very rewarding. I really enjoy helping the people that come in, and seeing the smile on their faces is the greatest "pay" I can receive." —Treva Guyer, VITA Tax Preparer, Emergency Volunteer Center Volunteer, Camp Courageous Travel Volunteer, and Monticello Food Bank Assistant