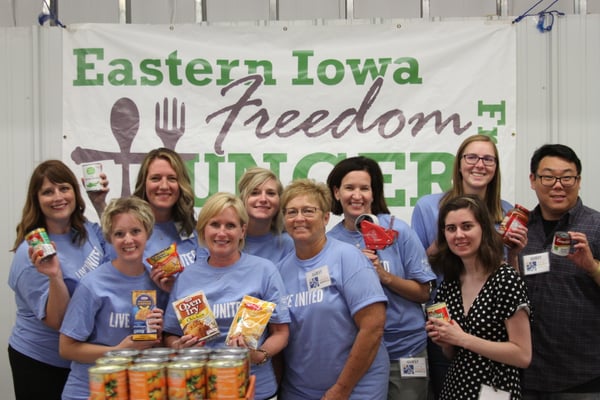 It's campaign time at United Way of East Central Iowa (UWECI), which means there's an abundance of energy going toward raising money and awareness to address East Central Iowa's toughest challenges. With an influx of work during this time of year, we have one tool that is essential to campaign success: United Way loaned executives (LEs).
In simple terms, LEs are professionals who work with United Way for a three-month span. In reality, they are much more than that. From reaching out to businesses and networking with area professionals to planning and facilitating events, LEs are kept busy in the short time they're here. Annually, LEs and the organizations they work with provide UWECI with more than 5,000 fundraising hours which is an estimated value of more than $200,000!
"We can't do it without them. It simply wouldn't happen," said Manager of Annual Giving, Destiny Hasting.
There are about eight LEs in the office every year, and while a few this year have held the position before, some are new to the United Way family.
When asked what the best part of this experience has been so far, first-time LE Jennifer Finn replied, "I am just thrilled by the collaboration that happens here, and all of the connecting pieces United Way has put together. Wherever there's an issue, United Way and its partners do their best to solve it. It's amazing to see, and be a part of, all the work that goes into that."
Returning LE, Gwynne Whitson, feels similarly. "It's been great meeting with different organizations and our partner agencies and really seeing the impact United Way has on the community year after year."
The money raised during campaign helps us reach our goals in education, financial stability, and health. Last year, more than 78,000 people were served in our community! To say we are lucky to have our LEs is an understatement, but we wouldn't have the pleasure of working with them without the support of our sponsors. This year's LE sponsors include Quaker, Rockwell Collins, UnityPoint Health – St. Luke's Hospital, General Mills, and Transamerica.