Each year, companies rely on committed employees who volunteer to coordinate their United Way of East Central Iowa (UWECI) company campaign. Fundraising can be hard to do and feel like an intimidating task. So, we asked our 2017 Outstanding Company Coordinators to share their best practices. Below are their recommendations for setting yourself up for success and finding the most engaging ways to raise money.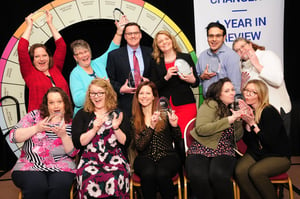 Getting off on the right foot makes all the difference. Brianna Kim, African American Museum of Iowa, emphasized, "the biggest impact last year was having a representative from United Way meet with our campaign team. Afterward, we better understood what United Way does in the community and the impact of donations." Employees on your campaign committee or team become more motivated when they are armed with knowledge to share.
After setting a good foundation, campaign committees or teams organize activities to engage their employees. Each of our Outstanding Company Coordinators agreed that small group discussions allowed for the best brainstorming for their organizations. Amber Doyle, Crystal Group, recommends, "balancing campaign activities with not taking up too much time out of people's day." It is important to get people to have fun but be strategic about when and where to host your campaign activities.
In your first planning meeting, consider these questions when organizing campaign events.
What do we hope to accomplish through this event?
Will it build morale?
Will it create greater community understanding?
Will it increase volunteering?
Will it raise money?
Below are some of our Outstanding Company Coordinators most popular and unique activities:
Casual days
"Give employees an opportunity to wear jeans at work for a small donation. If your company's dress code is already casual, consider themed days, like a favorite sports team or vacation/Hawaiian." –Patti O'Keefe, Shuttleworth
Raffles, 50/50s, or Silent Auctions
"Raffles get a great response and get people excited to donate." – Amy Sauter, TrueNorth
"Be sure to find items that appeal specifically to your employees. Last year we raffled off a Yeti and a gift card and everyone wanted one!" –Amber Doyle
Trivia Night
"Last year, we had our first trivia night and it was fun night. There was a lots of team collaboration and engagement." –Amy Sauter
Fly the Flag
"Our employees donated money to determine which university's flag (Iowa, ISU, or UNI) would fly each Saturday in the fall." –Amber Doyle
50/50 Popcorn
"Something new that went well was selling Almost Famous Popcorn. Each bag cost $5 and half the proceeds went to our UWECI campaign and the other half to Almost Famous to cover their cost. We sold them at work and in a downtown skywalk over a lunch hour one day. In total, we sold 124 bags!" –Patti O'Keefe
To find more ideas, check out our video and see how other companies put the fun in fundraising!
Special thanks to Amy, Amber, Patti, and Brianna for sharing their fundraising tips!