United Way of East Central Iowa (UWECI) celebrated its centennial anniversary in 2014. As we prepare for our 105th campaign, learn more about our organization's history, our 100th campaign, and what's coming next.
UWECI History
In 1914, a small group of Cedar Rapids community leaders met for the first time to provide support for four respected social services agencies. These 10 volunteers believed that working together for the common good would be a more effective way to promote a healthy and stable community. It was an innovative idea at the time, as Cedar Rapids was only one of three American cities to adopt this approach.
This group founded United Charities Campaign, UWECI's first name, on February 16, 1914. In its first campaign year, the organization raised $24,900 (equivalent to $500,000 today). Throughout its 100-year history, UWECI has had eight name changes, 11 CEOs, and grown to support more than 20 local nonprofits.
Our Centennial Campaign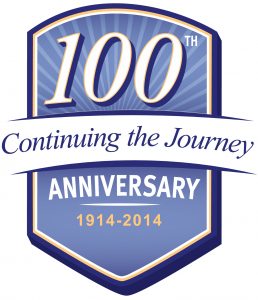 For our 100th anniversary in 2014, Campaign Chairs Jack and Matt Evans, a father–son team, lead the charge. The theme was "Continue the Journey" and highlighted our mission to continue helping people across all ages throughout our community for the next 100 years. With our Campaign Chairs, we introduced the Centennial Challenge Grant. More than 20 local, multi-generational families came together and pledged more than $500,000 to match all new or increased donations for corporate and employee gifts.
Watch the video below for a throwback to our centennial campaign.
https://www.youtube.com/watch?v=LXuLPoT43ok
Upcoming Campaign
Today, UWECI is the oldest and second largest of 30 United Ways in Iowa. Whether you volunteer, advocate, give, or some combination of the three, you help us fight for everyone in our community.
Check back here next week to meet our new Campaign Chairs Andrew, Darrel, and Paul Morf. In the meantime, see how you can make a difference in East Central Iowa at wefightfor.org/2018.