Hey there, everyone! It's the Morfs here.* We know we aren't the living and breathing campaign chairs you're used to seeing, but we've stepped in for some campaign kickoffs and events across our five-county service area and are here today to give you an update on all the excitement.
As you may know, employees from more than 400 companies and organizations participate in United Way of East Central Iowa's (UWECI) annual workplace campaign every year. The funds raised during campaign support local agencies and collaborations that are serving families and individuals in our community. So far this year, campaign has raised more than $4 million!
From puppy playtime to stationary bike races and pancake breakfasts to dunk tanks, the companies involved have not only been creative, but determined. Here's a sneak peek into what we've seen across these organizations and how much fun they're having along the way.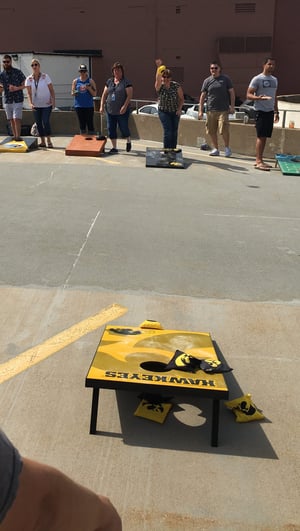 Rockwell Collins Government Systems brought in $7,000 auctioning off a "Lunch with the Boss"
CRST held a nationwide costume contest for Halloween
Companies, like Raining Rose, have goals set at an all-time high
Hibu employees completed a bike ride and competed in a bags tournament
Kids First Law had 100% participation in their campaign
Holmes Murphy and Aerotek both had "puppy playtime" events with dogs from shelters
The Labor Union held their first annual campaign pancake breakfast (and raised $700 from free will donations!)
TrueNorth raised more than $180,000 for their overall campaign
We also had the chance to sit down with UWECI's Vice President of Resource Development, Amy Geiger, and this is what she had to share about this year's campaign:
"We're feeling some really good energy this year and there's been an increased desire—a genuine desire—to improve campaigns. The company coordinators are extremely engaged and when they're passionate about what they're doing, then that filters out into the company. When it's exciting inside the company, it's also exciting for us!"
A big thank you to everyone who has contributed to UWECI's campaign this year. We're so proud of all the hard work everyone has put in.
If you're interested in keeping up with campaign events, follow us on social media outlets via #MorfsontheMove.
Sincerely,
Andrew, Darrel, and Paul
*This blog was written from the perspective of this year's campaign chairs' bobbleheads. The information provided is complimentary of UWECI staff, Loaned Executives, and volunteers.