On August 21, local young leaders and nonprofits came together to learn more about the new series United Way of East Central Iowa's Young Leaders Society is launching.
BOLD, Board Orientation & Leadership Development, features six 90-minute workshops to help emerging leaders interested in volunteering for a board or committee but are unsure of the skills or responsibilities they need.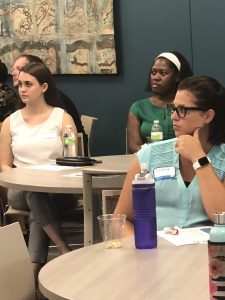 Attendees learned how this new series will help them develop the skills need to be a more informed and effective board, committee, or commission member. Nate Klein, Vice President for Student Success at Mount Mercy University and Catherine McCauley Center Board President, gave a brief overview of the six-session series, which includes:
Board Basics & Working with Nonprofit Management
Governance & Strategic Planning
Advocacy & Public Engagement
Fundraising & Resource Development
Engaging a Diverse Community/Civic Engagement
Financial Management & Fiduciary Responsibility
BOLD culminates with a graduation and pairing event in April 2019. At the pairing, BOLD will match graduates with a board or committee opportunity in our community based on their skills and passions.
How to get involved
Those interested in BOLD should apply by completing the application and reference form at uweci.org/BOLD by August 31, 2018. If selected, there will be a $100 participant fee.
Not sure if you can cover the cost?
A study by The Nonprofit Board Leadership Study showed companies that support and encourage board service advance their recruiting goals and keep the best people[1]. Use this information to discuss BOLD with your supervisor and ask your company to sponsor the $100 fee.
---
This series of workshops is a partnership with United Way of East Central Iowa (UWECI), Employee Resource Group Consortium (ERGC), Greater Cedar Rapids Community Foundation (GCRCF) and ImpactCR.
[1] Korngold, Alice (May 09, 2018), Value of Nonprofit Board Service for Companies and Their Employees, https://npengage.com/outcomes-impact/value-of-nonprofit-board-service-for-companies-and-their-employees/