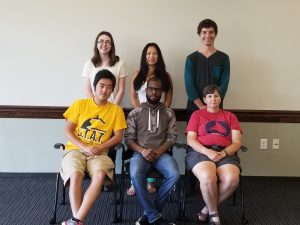 AmeriCorps Week is a celebration of all things AmeriCorps—from programs and organizations that make this national service initiative possible in thousands of locations across the country, to the members who have committed to "Get Things Done" since the program's inception in 1994.
Youth Achievement AmeriCorps (YAA) members provide support to low-income children and families through early literacy programs, tutoring reading and math, STEM engagement, and so much more!
We asked our current AmeriCorps members, "What does Youth Achievement AmeriCorps mean to you?"
"I first joined AmeriCorps because I wanted to do something different. After working in the restaurant industry for about three years, I wanted to go back into the education field because I felt like I was making a difference not only in someone else's life, but also in mine. When my mom suggested looking into AmeriCorps, I did. I packed up and moved to start a new adventure in Iowa." —Letravious Holley
"YAA means changing the life of a child. When a child comes up to me and gives me a hug, I know I am spending my life doing worthwhile work. It is what I am meant to do with my life." —Sandra Galer
"To me, being a Youth Achievement AmeriCorps member means I am part of a program that makes an impact in schools and can help local students for many years to come. Youth Achievement AmeriCorps tutors, such as myself, give our best to our students, school, state, and country. As our slogan says, we get things done. When we work with students, we follow up with them and are present in our community. YAA's work goes far beyond the classroom and because of that, I know we have an impact in many areas that endures long after the school day ends." —Morgan Exline