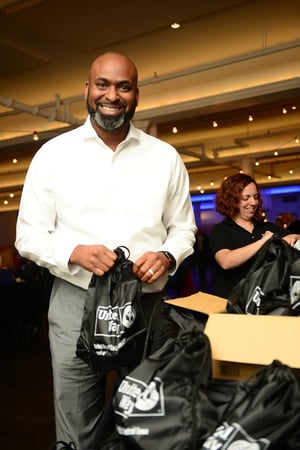 Thanking our donors is something we love, and the Because of You - Leadership Society Thank You reception did exactly that. The event held on Tuesday, September 25 at Eastbank Lounge in Cedar Rapids was a great opportunity for donors to mingle and connect with others fighting for our community. Invitees came from six leadership societies:
During the event, guests also made 500 backpacks for Operation BackPack (OBP)─HACAP's program to address food insecurity in local schools. Jane Drapeueax, CEO of HACAP, spoke more specifically during the short program about food insecurity in our community. For example, in East Central Iowa 1 in 7 elementary school age, children go to bed hungry. Operation BackPack addresses this concern by providing children with backpacks filled with nutritious, easy to prepare food for outside-school time where food may not be as readily available. This is more likely the case on weekends and during school vacations, so these backpacks are sent home with kids in need.
To learn more about food security issues in our community, read United Way's Community Snapshot on food security.
Vice President of Resource Development, Amy Geiger, and President and CEO, Tim Stiles, wrapped up the event with a final thank you for participating in making backpacks and for joining us in the fight to break the cycle of poverty in our community.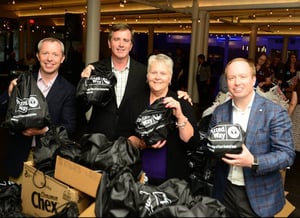 Thank you to our sponsors for making the event happen: Alliant Energy, Cedar Rapids Bank & Trust, Mercy Cedar Rapids, Holmes Murphy, and Schimberg Company.
And a final thank you to all of our leadership donors! Leadership society membership helps you build a connection to meaningful work in our community and to others who share your commitment. Consider becoming part of a leadership society this year if you haven't before.