Join UWECI and the Cedar Rapids Civil Rights Commission for Equity Conversations during February.
"Not everything that is faced can be changed, but nothing can be changed until it is faced." James Baldwin, American novelist, poet, and activist said this over fifty years ago. This remains relevant today.
Our community is positioned to make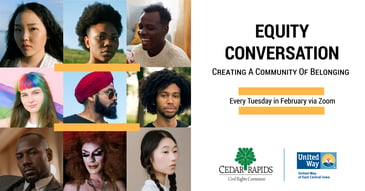 transformational social impacts. But first, existing inequities must be faced. In order to build a community based on fairness, equity, and belonging, we must be explicit about advancing the remediation of exclusion, marginalization, and structural inequities. Not all community members experience life the same way. We should engage with people outside of our own familiar group, to understand the narratives of those with different experiences and identities than ourselves.
To provide opportunities for engaging and deep dialogue, the Cedar Rapids Civil Rights Commission and United Way of East Central Iowa have partnered to offer a series of Equity Conversations. These critical conversations are designed to build awareness and understanding around equity within education, financial stability, and health–the building blocks for a good quality of life and a strong community. The series will end with a discussion on actionable steps to ensure our community is just, sustainable, and equitable. These sessions are stand-alone sessions, and participants will only need to register once to attend any of the sessions throughout the month.
Together, we pledge to develop and foster a community culture that accepts and values our differences, infuse equity into every facet of our work, and model inclusivity. We remain committed to our bold vision and invite you to participate in the Equity Conversations - Creating a Community of Belonging with open minds, open hearts, and a willingness to undertake the work of community.
Stefanie P.K. Munsterman-Scriven
Executive Director, Cedar Rapids Civil Rights Commission
Pronouns: she/her
Angelica Vannatta
Senior Manager, Volunteer Engagement, United Way of East Central Iowa
Pronouns: she/her