Meet Elizabeth- our new volunteer engagement specialist in Linn County!
Over the last couple months, Elizabeth Skaff joined our team as our new Community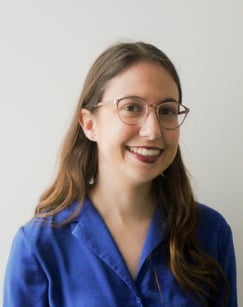 Resource and Volunteer Engagement Specialist in Linn County! Learn more about her through her responses to the questions below.
Tell us a little bit about yourself. What do you do for fun?
I'm from Cedar Rapids and thrilled to connect people in my hometown with volunteer opportunities.
For fun, I enjoy spending time with my cat and caring for my many houseplants, which often involves keeping the cat away from the houseplants. I also love to cook and frequently try out new recipes.
What do you love most about working at United Way?
I love having the opportunity to meet so many amazing people, both at United Way and in the community. Getting to see others connect with meaningful volunteer opportunities and contribute to the many great things happening in our community makes my day.
Outside of United Way, how are you involved in the community?
I recently completed a year of service with AmeriCorps at Mount Mercy University connecting students with volunteer and research opportunities at local non-profits.
What is some of the best advice you have received?
To try new things and learn from new experiences.
Share a favorite quote you have.

Do your little bit of good where you are; it's those little bits of good put together that overwhelm the world. -- Desmond Tutu