Here's how you can participate in this one-of-a-kind volunteering event.
While plans are in the works for an in-person Day of Caring on Thursday, August 27, United Way of East Central Iowa (UWECI) is looking forward to our first ever virtual Day of Caring on Thursday, May 14. Thousands of people have participated in Day of Caring in the past via community projects and other volunteer opportunities, and this year will not change that! And this year we are asking you to let us know by taking pictures and using the hashtag #UWVirtualDOC.
There are multiple ways to participate in this virtual event. Here are some easy and helpful ideas for you to use to participate:
If you're looking for local and state volunteer opportunities…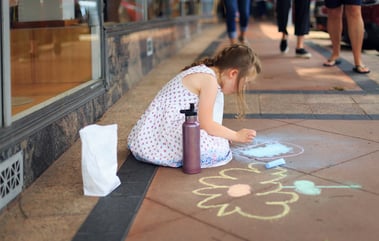 Check out Volunteer Now! Volunteer Now is a great way to find all kinds of volunteer opportunities in East Central Iowa. Click here to see what opportunities are available.
Volunteer remotely. For those looking to explore and try virtual and remote volunteer activities, you've come to the right place! These activities can be done online or offsite while practicing appropriate social distancing and hygiene recommendations. Click here to browse remote opportunities! You can also find opportunities through Points of Light—a UWECI affiliate—and Operation Warm.
COVID-19 Volunteer Response. Many organizations need help during this ongoing pandemic. Click here for both local and statewide volunteer needs.
Supporting local business is important to us, too. If you want to support local businesses…
Purchase a gift card. Buying a gift card to use at a later date can help businesses bridge the cash-flow gap.
Order takeout or delivery. Most restaurants have found a way to continue serving food via curbside pickup or delivery options they didn't have before.
Share the love! Did you get an incredible dinner deal delivered to your door or fantastic customer service from a local shop? Give them a shoutout on social media and share the post with your friends or followers. Bonus points if you leave them a review!
If you don't have time to plan a project or aren't sure what to do, we've got you covered! We created a virtual Bingo card that is perfect for individuals and families. Click here to download it and share it with people you know.
And don't forget, no matter how you participate, we want to see your virtual volunteer activities! Share photos and videos on social media, tag us (@UWECI) and use the hashtag #UWVirtualDOC.