Learn more about the people and projects behind this year's event.
More than 750 volunteers rolled up their sleeves, grabbed their tools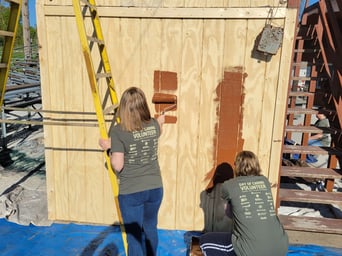 , and gave back to our community through participating in United Way of East Central Iowa's (UWECI) Day of Caring on Thursday and Friday, May 13 and 14.
"It feels good to get back out into the community for Day of Caring this year," said Angelica Vannatta, UWECI's Senior Manager of Volunteer Engagement. "Hearing stories of volunteer teams working together and helping area nonprofits has been such a joy."
Day of Caring is one of the largest organized volunteer events in Eastern Iowa. Local businesses encourage their employees to volunteer at nonprofit agencies and schools to address community and agency needs. Participating in Day of Caring is a great way for nonprofits to tackle their long list of projects, and for companies to give back to the community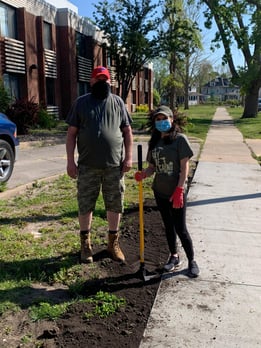 and build a company culture of volunteerism. All of this year's projects were outdoors to comply with the ongoing pandemic, and volunteer spots for this year's event filled up in record time.
Volunteers spent their day completing landscaping projects at various nonprofits, painting at the ReStore, gardening at the Cedar Rapids Public Library, and helping Tanager Place prepare for summer camp. As projects continued throughout the day, a common theme resonated with all volunteer groups: it's good to be back in the community, especially after Day of Caring's year-long hiatus.
"This has been the highlight of my week," said one volunteer. "[I feel like] a lot of us have been waiting to get out into the community and do something, and today is a great way to make a difference."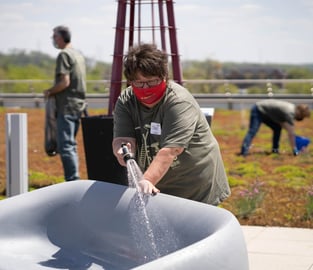 Once all projects are completed, 44 corporate partners will have completed 99 projects at 37 nonprofits. This equals nearly 4,000 volunteer hours being put into our community, which is worth over $112,900!
Thank you to everyone who participated in Day of Caring—as a volunteer, agency partner, and all who worked behind the scenes to make this event possible! Be sure to visit our Facebook page to view photos from the day and tag us in your posts on social media using #DOC2021.