Learn how UWECI is helping improve education many different ways for many different people.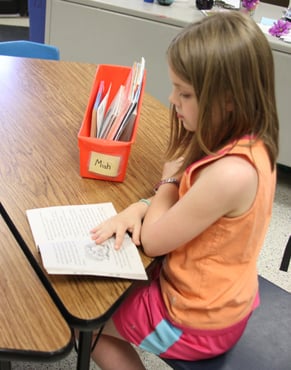 In our first installation of
The Data Dialogue
—a blog series incorporating data and its connection to our community—we're talking about the role education has on the people in our community and how
we work alongside a number of community partners
to ensure kids and parents have the resources to not only learn, but to also be in a mindset and environment conducive to learning.
Did you know that in our five-county service area:
70% of all kindergarteners met benchmark on Early Literacy Screener in the fall of 20161
75% of all fourth graders were proficient in reading in the fall of 20172
90% of all high school seniors graduated in the spring of 20183
East Central Iowa works hard to make sure children and families are supported during every stage of school. Our goal in education focuses on the opportunity gap in our communities and addressing the issues at hand.

Kindergarten Readiness: Children can quickly fall behind their peers in multiple aspects of kindergarten readiness such as listening, counting, and literacy if insufficient time and resources are provided for early development. This is an important milestone for children as kindergarten is a strong predictor of lifelong reading achievement.

Social and Emotional Well-Being: Research shows that 85% of brain development occurs in the first five years of life.4 Each day is essential and provides experiences which shape how children form relationships, manage emotions, and build trust. A child that grows up in a stressful environment with little support lacks the ability to learn the necessary skills to parent a child of their own in the future.

Academic Achievement: Children from low-income families hear 30 million fewer words by age four than their peers coming from families with higher incomes.5 This results in a substantial vocabulary gap between the two groups. It is important for children to stay on track and prevent future learning issues and there is a strong connection between a parent's education level and the outcomes for their children.6


1Iowa Department of Education, Bureau of Information and Analysis. (2016-2017). Kindergarten Students Meeting Benchmark on Early Literacy Screener by District.
2Iowa Department of Education, Bureau of Information and Analysis. (2017-2018). Reading Assessment Data by District and Grade.
3Iowa Department of Education, Bureau of Information and Analysis. (2018). Iowa Public School District Class 2018 Four Year Cohort Graduation Rates by subgroup.
4Cochran, Stuefen, and Sandberg. (2004). The Economic Impact of the Child Care Industry in South Dakota; Funded by The Annie E. Casey Foundation.
5Fernald, Marchman, & Wiesleder. (2013). SES differences in language processing skill and vocabulary are evident at 18 months. Developmental Science, 234-248.
6Child Trends and Center for Health Research. (2004). Early Child Development in Social Context. http://ectacenter.org/~pdfs/eco/chartbook_quick_download.pdf