CEDAR RAPIDS, IA — After a tough year for many due to the pandemic and derecho, United Way of East Central Iowa (UWECI), Linn County, and the City of Cedar Rapids are collaborating to assess community needs and better support Eastern Iowans.
The Community Impact Assessment aims to raise common needs and concerns that individuals in Eastern Iowa believe are important. This survey, which gathers data from five counties, will show where gaps in our community exist, which can create partnerships between area organizations to help close these gaps. This can change the way nonprofits work together for better outcomes.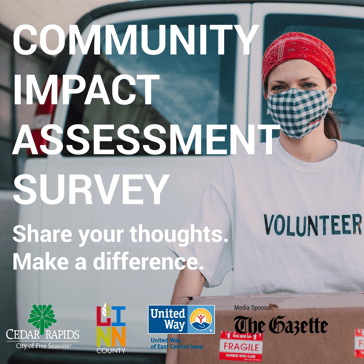 "When we first decided to do the Community Impact Assessment, we knew this survey was going to be an integral part of our future focus as a connecting and convening organization," said Karey Chase, UWECI's Director of Community Investment. "We are excited to partner with the City of Cedar Rapids and Linn County to reach as many individuals as possible and look at issues from a comprehensive perspective."
The public's support in completing this survey will:
Give individuals a chance to share their voice and concerns. Each voice in our community is strong and will shape the way our neighborhoods, cities, and counties support future generations.
Highlight concerns our community has. This includes but is not limited to concerns around basic needs, childcare, financial stability, and health. The responses from this survey will serve as a voice for the community and will ensure a strong support system for people in need throughout our area.
Stress the importance of various services. This ensures that dollars and funding are going to the community's prioritized needs.
Strengthen resource networks for those searching for services, which will build stronger, collaborative relationships.
As a funding and connecting leader, UWECI aims to effectively understand comprehensive community needs. By looking at the community through several different lenses such as geography, racial equity, and collaborative solutions, UWECI will be better able to lay the groundwork and steer the course for tackling these top issues in its service area.
"Last year shone a spotlight on inequities that already existed in Eastern Iowa, and this assessment gives us the chance to understand how inequities impact individuals in multiple ways," Chase added. "UWECI serves five counties, and it is our intent to highlight opportunities and solutions moving forward."
Those wishing to take the survey should complete it by June 7.
About United Way of East Central Iowa
United Way of East Central Iowa (UWECI) is a nonprofit organization and the second largest United Way in Iowa. Together, UWECI and its partners serve Benton, Cedar, Iowa, Jones, and Linn Counties to help meet our community's most critical needs in education, financial stability, and health. For more information, visit uweci.org.