Learn about our Community Building interns, Cristal & Ihab!
In January, four interns joined our Community Building team for the spring semester, and at the beginning of March, we sat with Emily and Megan to learn more about their experiences and interests. This month, we had the chance to meet with the other two interns—Cristal Boeding and Ihab Ahmed—to learn about the program they're in, where they grew up, and why they wanted to work with United Way.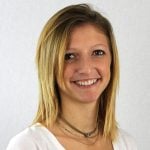 Like Megan, Cristal is in her last year of undergrad at Mount Mercy University and will graduate with a degree in social work this spring. She grew up just outside of Cedar Rapids in Ely and considers her childhood home her favorite place in the world.
Ihab grew up in Sudan and came to Iowa just five years ago, where he says he found "nothing but warmth and kindness." He's pursuing his Master of Science in Public Health at Western Illinois University in hopes of returning to eastern Africa to work toward improving overall health with the advanced experiences and guidance he gains while in the U.S.
Take some time to learn more about Cristal and Ihab.
What do you like to do for fun?
Ihab: I really enjoy hiking, reading, and watching good movies.
Cristal: I love being active, especially running, yoga, and dance. I also really enjoy traveling—my boyfriend and I just did a 9-day trip over spring break covering St. Louis, Memphis, Biloxi, Montgomery, and Chattanooga!
Why did you want to work with United Way?
Ihab: United Way's participation in and impact on the community is undeniable. I wanted to participate in the development and well-being of the community that has nurtured me over the last five years.
Cristal: In my undergraduate studies, I have observed agencies at the micro-level but wanted to see the bigger picture and better understand how agencies in Cedar Rapids work together through a larger entity such as United Way.
What has been your favorite part of your internship so far?
Ihab: The sense of teamwork is obvious here. I also like the respect and openness of the staff and how they interact with everyone.
Cristal: I got to go over what local agencies have accomplished in the last year and review if they are on pace to reach goals and if they're meeting standards.
What is your dream job?
Ihab: One that has a positive impact on the community I live in and reflects how I feel about other people.
Cristal: I really have enjoyed working with adolescents facing mental health challenges and behavior disorders, so I think my dream job would be to open my own practice. That way I can use my skills in a variety of ways with a variety of individuals.